Indoor bleacher rentals can be used for events ranging in size from just one bleacher unit seating 55 all the way up to grandstand rentals for thousands of people. Each event though similar in concept (i.e bleacher rentals) they can be very different in the events needs and the approach to get the job done.
A few good items to know when trying to approach an indoor event seating project would be:
Does the facility or space allow for vehicle access into the seating event area for trucks and trailers?  If not does the space have a loading/unloading area and how far is it from the bleacher rental installation locations?
This could possibly be the most critical question to answer, as it will not only determine the amount of labor needed for the installation to be completed it can also determine if it is even possible to complete if the time frame is not correct.  Example; if you need 1000 seats for an event and it needs to be installed in a 8 hour window it would not be possible without access for the equipment into the space as the labor needed to carry the materials would take too much of the time needed to install.
Does the venue have other work happening at the same time and or in the same space as the rental bleacher installation?
If other vendors or teams are working in the area they need to be aware that the designated bleacher rental space is "off limits" from anyone not working on the bleacher installation. This includes all pathways and areas around the bleachers needed for material layout and access.  Additionally when it comes time to tighten the bleachers down the process is very loud, and it is best if other vendors find another place to be during that process.
This was an indoor bleacher rental event which took place in Orlando, Florida.   The facility had a loading area that was close to the bleacher location, but did not offer complete access for vehicles due to other items inside the facility.
The installation of this event required around 6 hours to complete.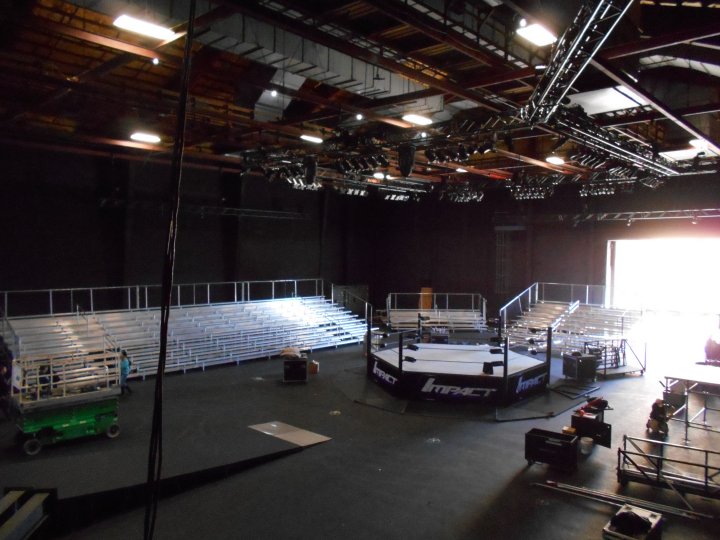 As with all bleacher events you should always verify that the company providing the bleachers will be supplying bleachers that meet the requirements of the facility or location you will be using them.