Florida Bleacher Rentals
Seating Solutions for Events in Florida
Need Bleacher Seating for your Florida event?
Short-Term Florida Bleacher Rentals
If you need to rent bleachers for a weekend competition or a week long festival in Florida, we've got you covered!
Long-Term Florida Bleacher Rentals
RBI offers long-term bleacher rentals, which is perfect for schools and local parks & rec looking to add some extra event seating.
Rental Bleachers, Inc. has been providing
Florida Rental Bleachers
since 2009…
Rental Bleachers, Inc. makes it easy to rent bleachers in Florida.  RBI has been offering rental grandstands and bleacher rentals in Florida since 2009 and have provided indoor and outdoor portable bleacher event seating to over 250 Florida events. 
Our aluminium bleacher storage facility is located in the heart of Florida and allows us to provide bleacher rental seating at competitive costs to South Florida in Miami, Gulf Coast areas like Tampa, around Jacksonville in Northeast Florida, Tallahassee in the panhandle, and everything in between..  Our most popular Florida event seating includes raceways, fairgrounds, rodeos, colleges and universities and so much more.
Our Customers Say It Best
Working with Michael and his crew since 2008 has been a producers dream. From the first contact, through set-up operation and teardown, the team is always professional. Their attention to safety, code requirements and detail is always Rental Bleachers first concern, putting me at ease satisfying local code enforcement officers..
Michael is always willing to make any project easy and well within budget. Awesome company to handle your bleacher requirements.
Temporary Seating and Bleacher Options in Florida
+ Make someone feel special!  Add a VIP Hospitality Suite for fans and/or staff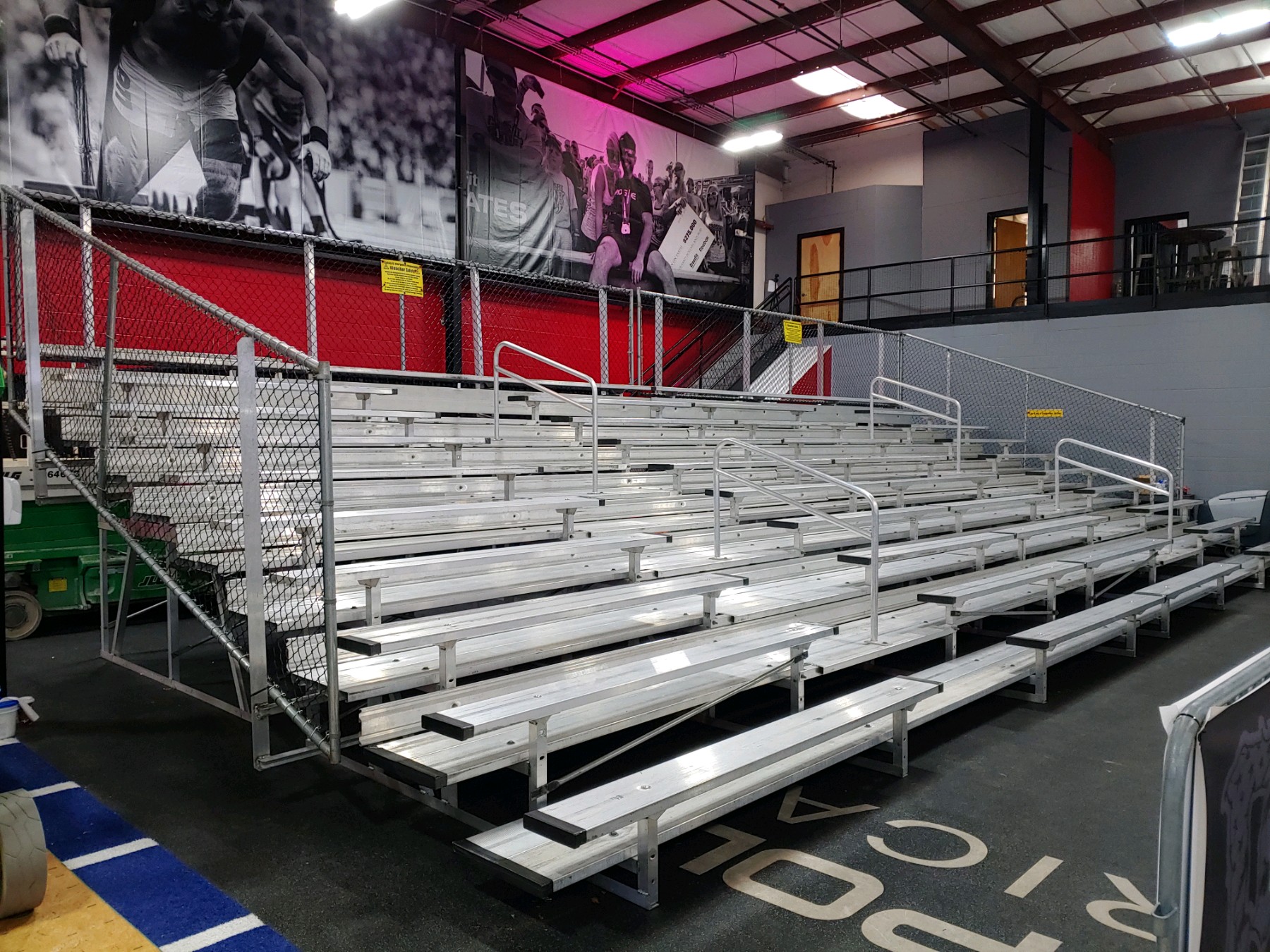 Traditional Bleachers
These standard bleachers can be installed in 5, 10, or 15 rows high (call for details).  These products are assembled on site.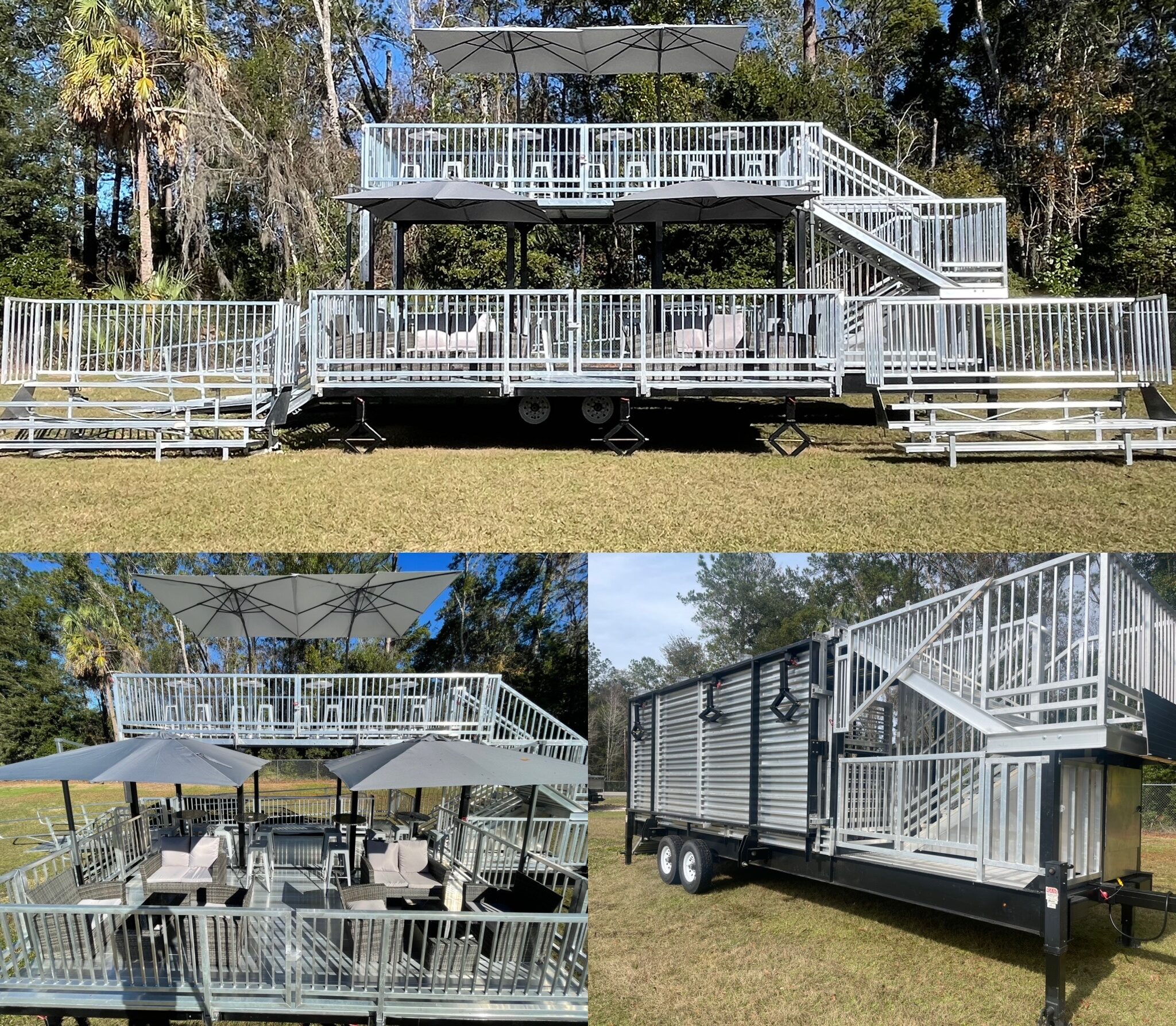 Elevated Event Deck
Mobile VIP event deck with ADA compliant wheelchair ramp, multiple seating locations and removable umbrellas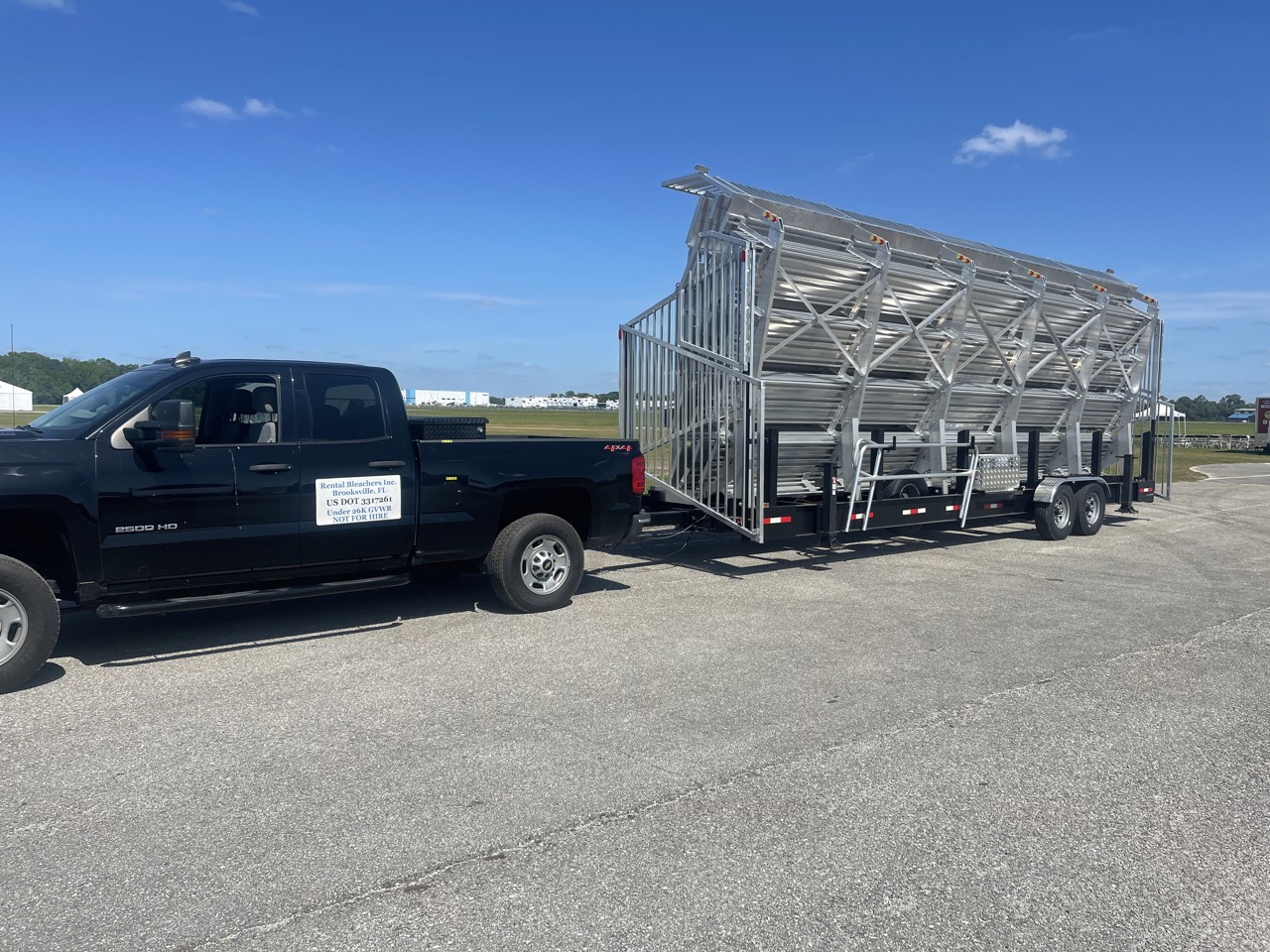 Mobile Bleachers
Mobile or Towable bleachers are an excellent choice for events with a tight delivery or removal time frame.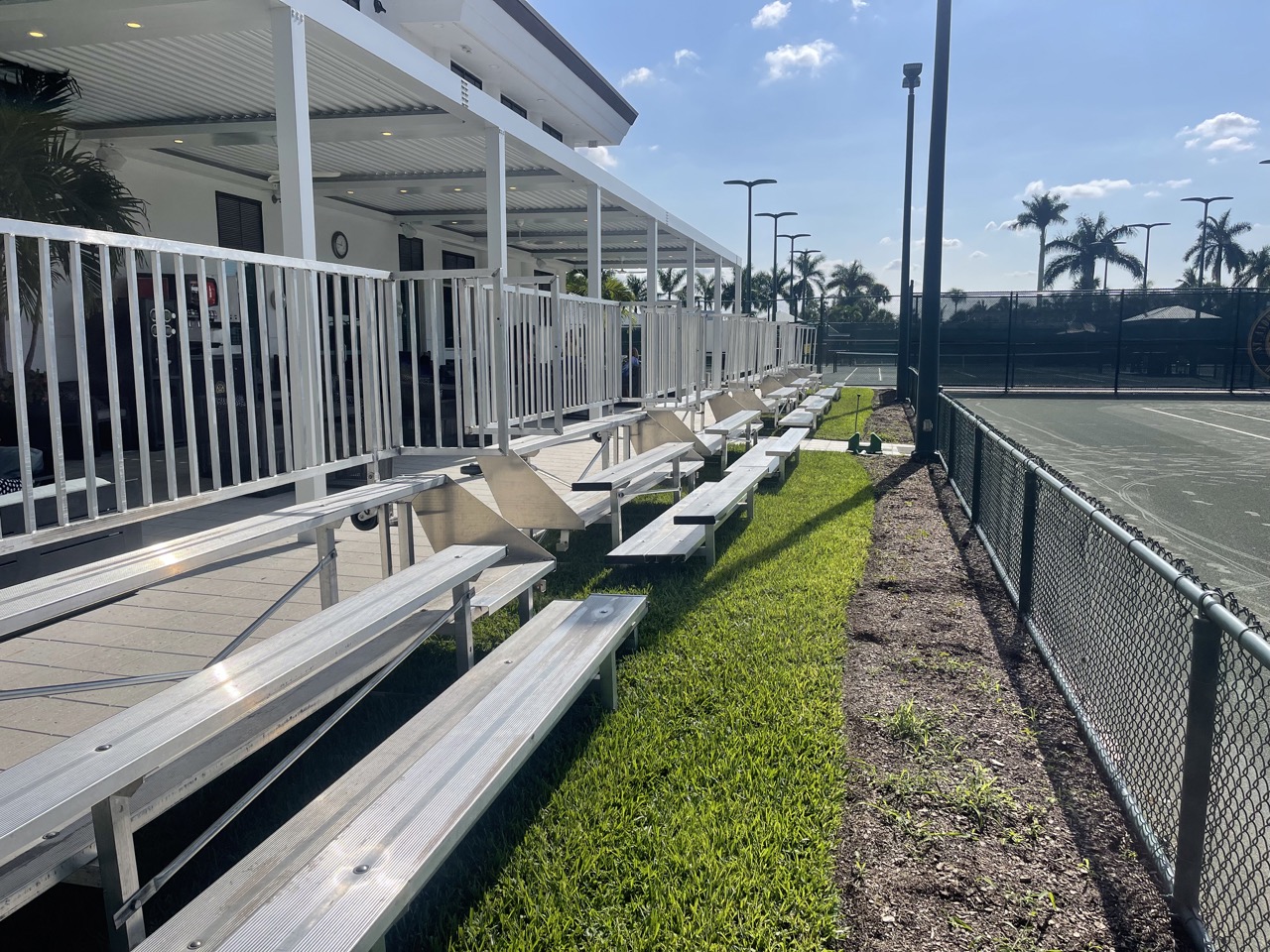 3 Row Bleachers
An intimate layout that is perfect for seating  small crowds in tight spaces. Easily moved around as needed.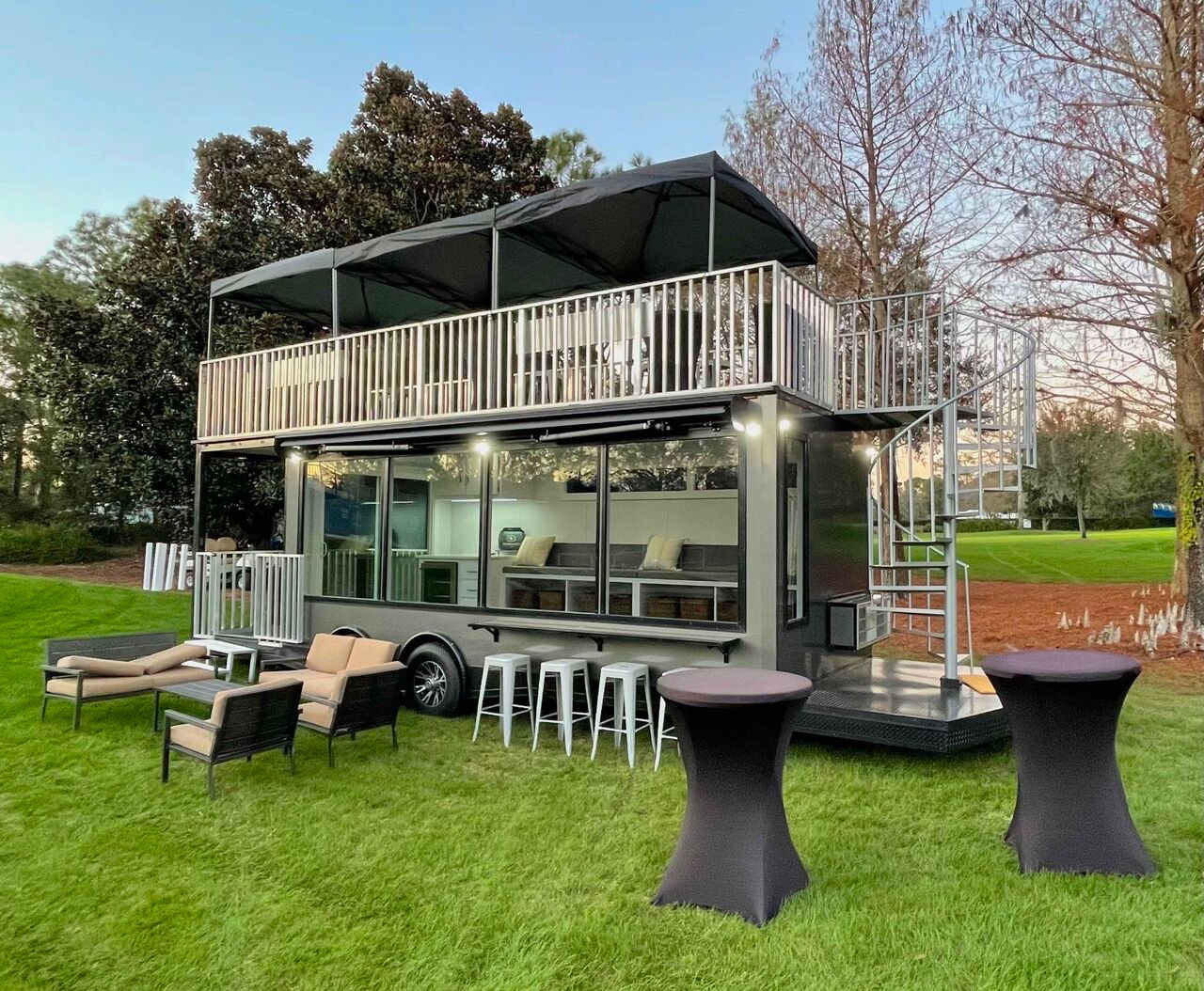 Hospitality Suites
Air conditioned event suites for VIP areas and Corporate Hospitality suites.  Optional tented or covered roof deck.  
What is The Process Like?
It's easy to rent bleachers in Florida with Rental Bleachers, Inc.  You give us the details for your event, and we take care of the rest. We make sure the bleachers are up to standards for all Florida state and local county and city codes and ordinances.
Our top priority is to ensure our rental bleachers are set-up and looking great before the event, and to quickly remove all our equipment as soon as the event is over. 
Give us a call or send us an email with your event details, and we'll help you knock seating options off your checklist for your event so you can focus on giving your guest the best experience.
1. Contact RBI with Event Details
In order to provide accurate costs and options for your event, you will need to know the following information:
City and State of event
Event Dates or length of rental period (i.e 1 day, 1 week, 1 month)
Number of people you want to seat in the bleachers
Indoor our outdoor event
Any special or unique details of your event or location
2. Agree on Contract and Terms
RBI will put together a formal contract with all of your unique event information and once agreed upon by both parties and executed, we enter into the planning stage of the project.
3. Planning for Bleacher Rental
During this phase of the contract, RBI issues appropriate insurance certificates and sealed drawings (if required). If any changes are needed on the clients end regarding schedule or layout, this is the time to make required modifications. 
4. Delivery and Assembly of the Bleachers.
Delivery of the materials requires access to the area for the trucks and trailers (Unless pre-discussed with other terms)
The assembly time can range from a few hours to a few days depending on the size and scope of the project.
Our crews are safety first and wear all appropriate safety gear during this phase. 
5. Awesome Event with Lots of Seating
Do your thing, our bleachers sit tight, even if your attendees don't!
6. Bleacher Removal
After the event, RBI will arrive at the agreed upon time and start the removal process. The removal process is usually a little faster than the assembly.  After the removal the site is left just as it was prior to assembly with the exception of any trash accumulated by the event which is the clients responsibility 
Some of our Recent Florida Bleacher Rentals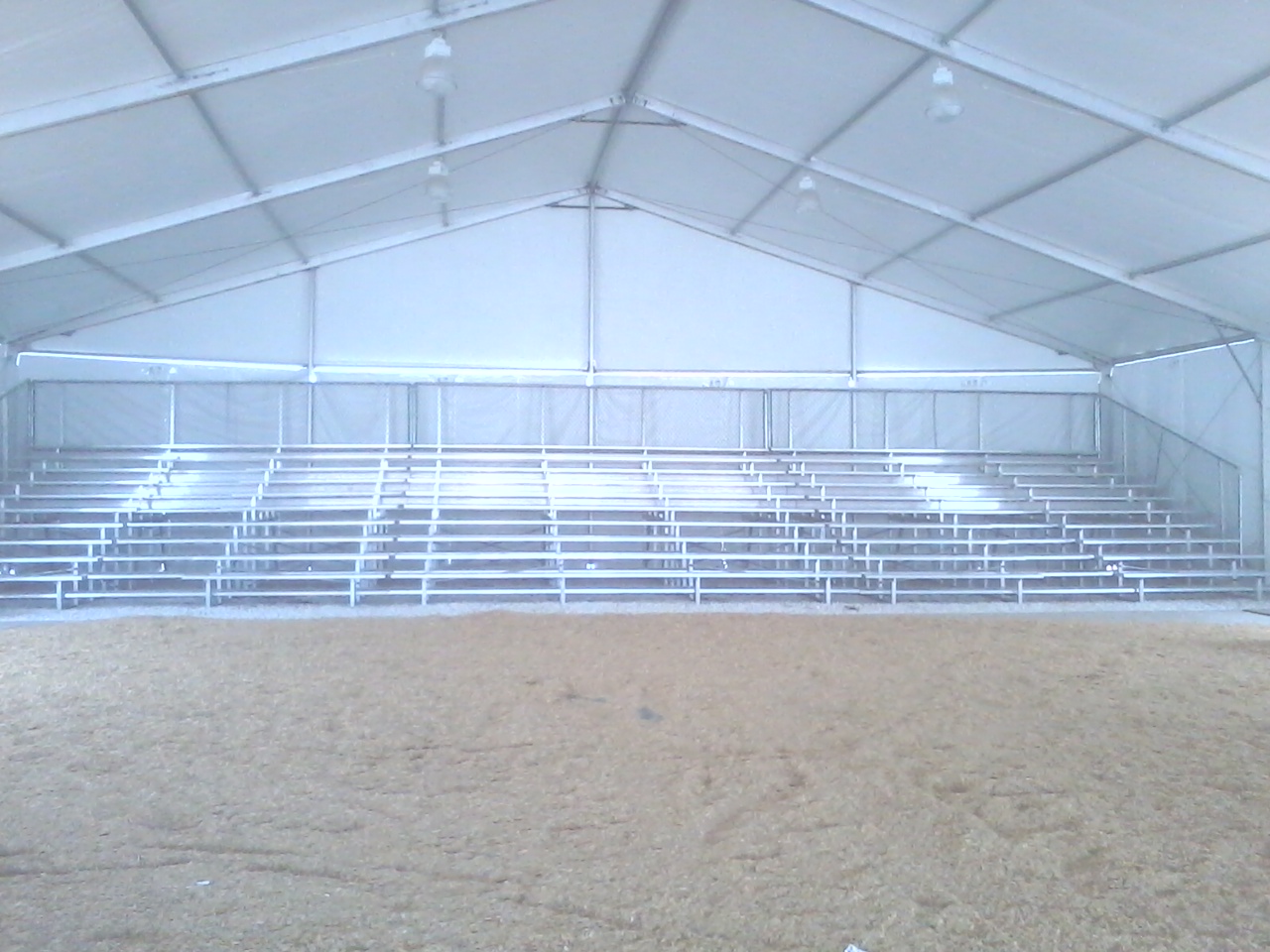 Sumter County Florida
Bleacher installation inside of a covered tent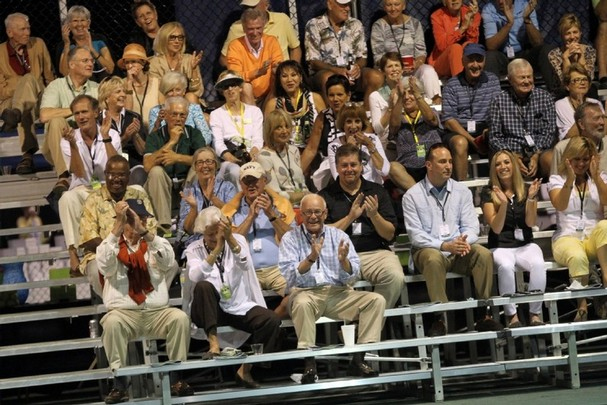 Bonita Springs Florida
Portable bleacher installation courtside for a tennis tournament..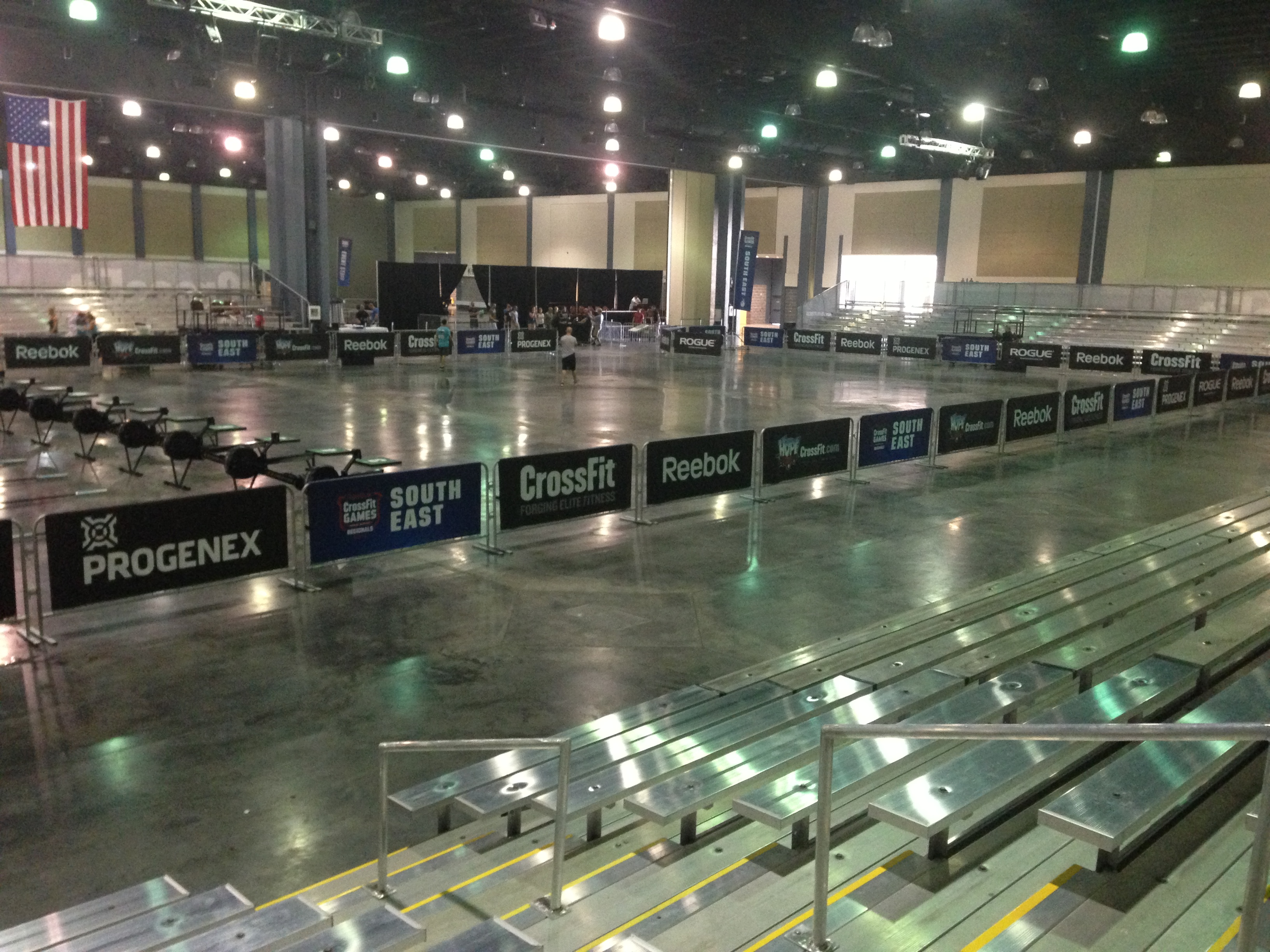 West Palm Beach Florida
Indoor seating for 2,500 people attending a crossfit tournament.
Sumter County Florida
Annual March Event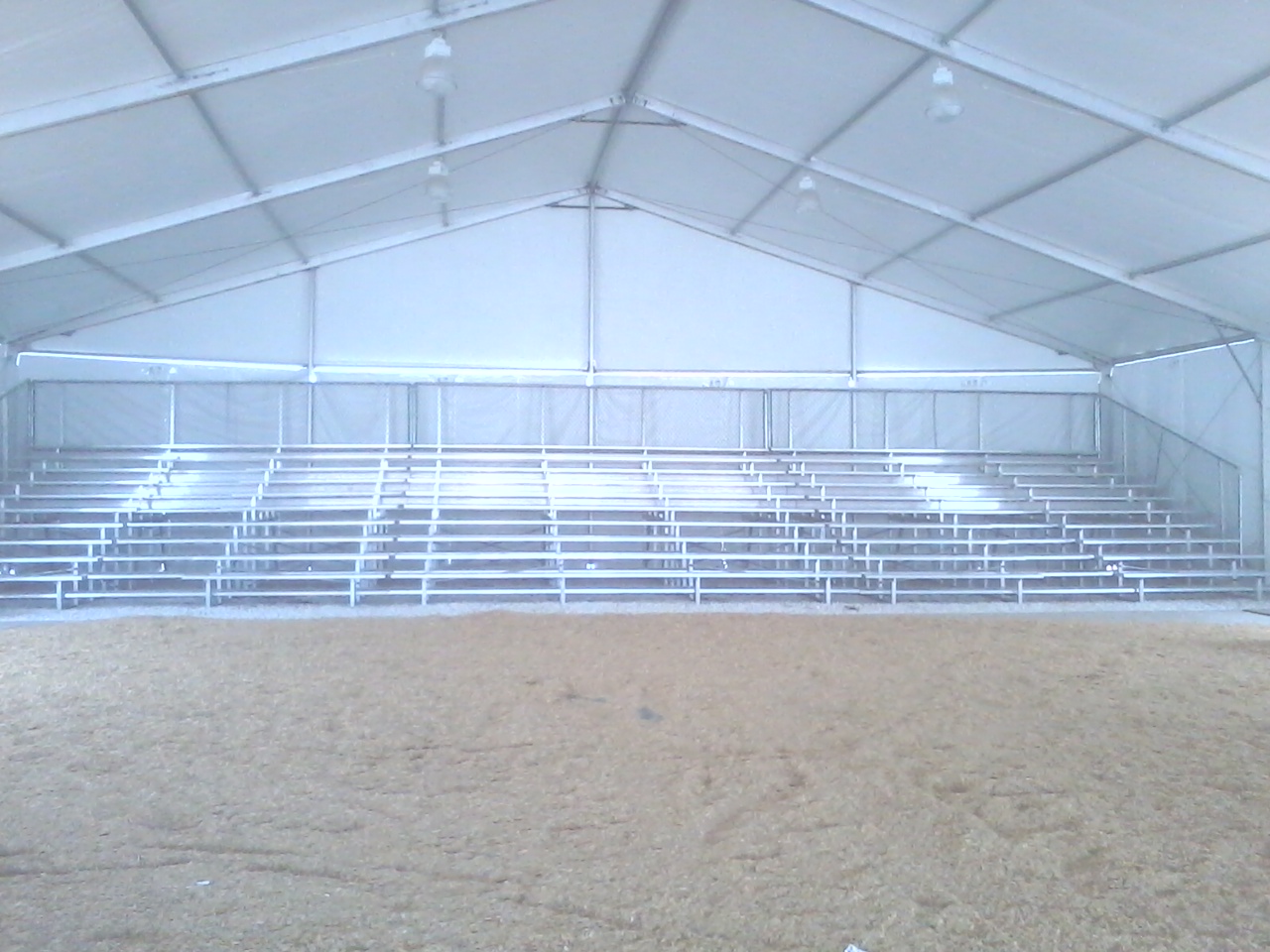 The bleachers rented for this event are 4 sections of 21' long 5 row angle frame aluminium bleachers plus 9 sections of 21' long 10 row angle frame aluminum bleachers.
Barbara is amazing to work with on this project.  Last year we provided over 600 bleacher seats using a combination of 5 and 10 row portable angle frame bleacher units.  This year our contract is for nearly 1,400 bleacher seats. This event is pretty cool as we install the rental bleachers in a custom tent structure for a specialty arena.  
Bleacher installation is flexible for this event as we are located close to the project from our Florida bleacher rental facility, meaning we can install a large amount of bleacher seating without much travel cost.  Because our goal is repeat business each year, we always try and make our rental bleacher pricing the best we can and any savings are passed on to our clients. This will be our second year providing seating for the event in Central Florida and we hope that our quality service and product reflect our appreciation to our clients for choosing us as the vendor.
Bonita Bay Country Club
Bonita Springs Florida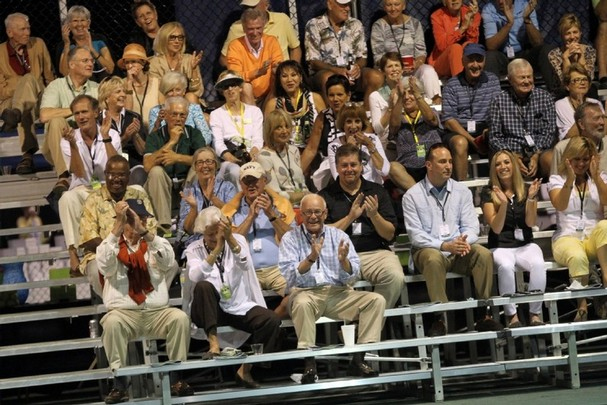 The portable bleachers used for this event are 84' long 10 row aluminum angle frame rental system seating 515 with 2 mid-aisles, hand rails, and back and side safety fence.
RBI has been providing the tennis bleacher seating at Bonita Bay for the tennis tournament for many years.  What started off as a small 5 row temporary bleacher rental project has grown into a wonderful yearly event with an 84' long 10 row angle frame bleacher installation seating over 500 people.
Every bleacher rental project carries its own challenges, and this was no different. The materials for this event need to be carried a distance due to the remote location of the tennis court area.  RBI specializes in these more difficult bleacher rental projects and our aluminum angle frame bleachers makes it just a little easier to get into these tighter locations than using a traditional steel bleacher or wooden bleacher system.
Also because the portable bleachers are aluminum, the angle frames do not damage the tennis court during the installation or removal of the rental bleachers.  The bleacher removal also takes place after the tennis tournament is completed, around 9pm, which means when the client arrives the next day all the tennis facility members will have access to the tennis courts as if we never put in the rental bleachers at all.
Cross-Fit Tournament in
West Palm Beach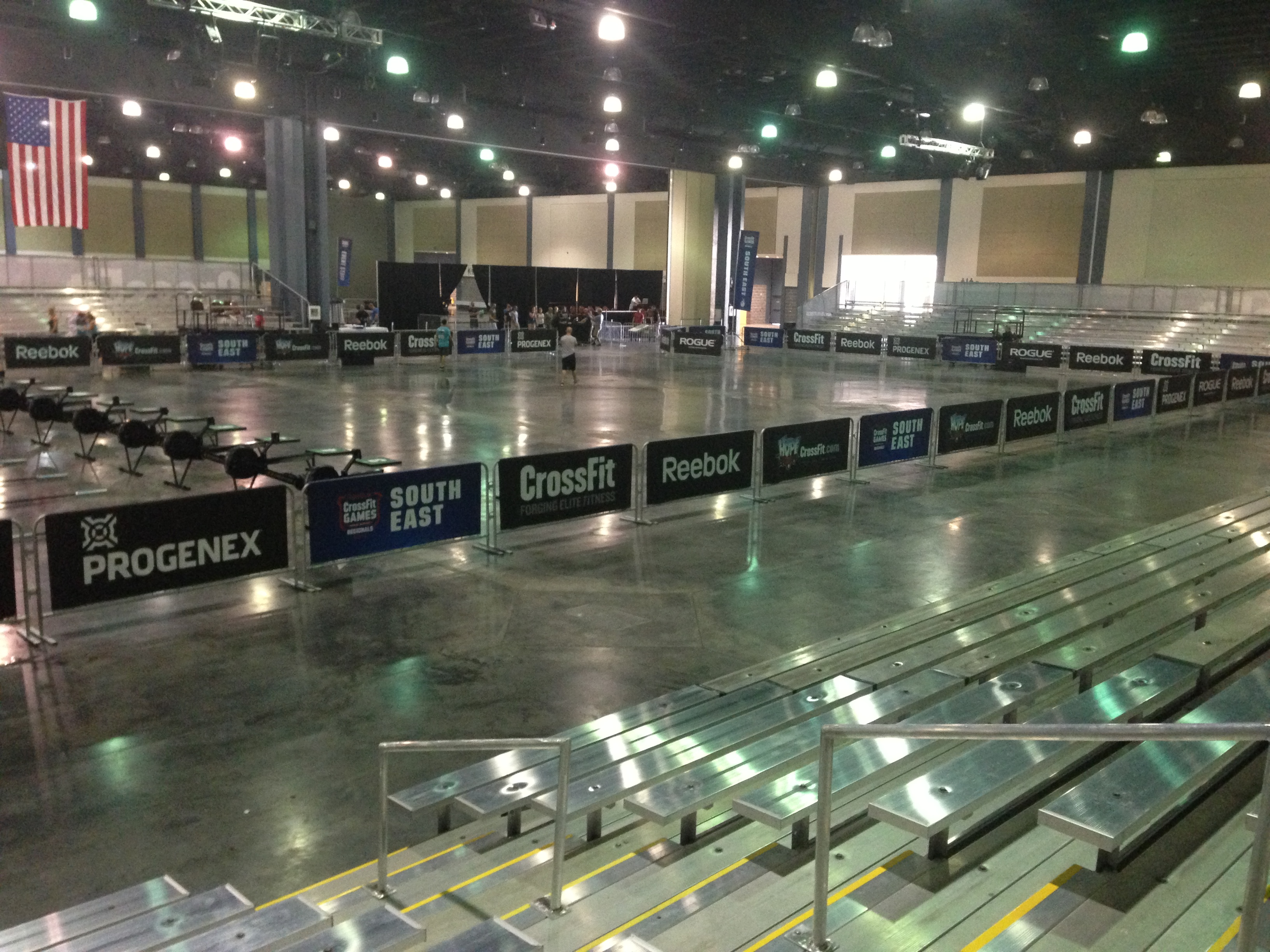 The rental seating used during this event was 19 sections of 21' long 10 row bleachers installed in 4 sections of 84' long and one section of 63' long.
What an amazing event!!! This bleacher rental project was awesome in every aspect.  The client was incredible to work for, the venue was perfect (Thanks to the WPB Convention Center) and the bleacher installation went as good as any event can go.  Because the client booked the bleachers for the crossfit tournament 120 days in advance, they received the early booking rate and it allowed us plenty of time to submit engineer sealed plans for this project as required by the facility and the inspector.
The total seating at this event was around 2,500 using numerous lengths of 10 row non-elevated aluminum angle frame bleachers.  This event was indoors on concrete and the facility allowed for access of the trucks and trailers to deliver the bleacher materials.  This cut down on installation time tremendously.  The total installation took 16 working hours over a two day time period.  The event was 5 days long and the installation was done 3 days in advance to make sure everything was perfect.  After the installation of the bleachers the client "branded" the units by using customer banners and advertising which also worked great!
Get a Quote for Bleacher Rentals!
We would love to help you make the most of your event with RBI's bleacher rental service.   If you would like more information, a free quote, or  would like to share your RBI experience, please fill out the form below!
Resources for Florida Bleacher Rentals:
We provide full service for bleacher seating all across Florida, and have worked in major cities such as Orlando, Miami, Tampa, Daytona, Pensacola, and Jacksonville, as well as smaller cities such as Ft. Lauderdale, Bradenton, Sarasota, Key West, etc.  Often times we even work directly with county governments such as  Dade, Orange, Broward, Polk, etc. for county specific events.