Georgia Bleacher Rentals
Temporary Event Seating in Georgia
Looking to Rent Bleachers in Georgia?
Short-Term Georgia Bleacher Rentals
If you need to rent bleachers for a weekend competition or a week long festival in Georgia, we've got you covered!
Long-Term Georgia Bleacher Rentals
RBI offers long-term bleacher rentals, which is perfect for schools and local parks & rec looking to add some extra event seating.
Rental Bleachers, Inc. is the best provider of
Georgia Bleacher Rentals…
RBI has been providing bleacher rentals in Georgia for years and have proudly been the seating provider of choice for many events including races, football games, rodeos, movie and television and more. 
With completed indoor and outdoor events in almost every city in the state including Atlanta, Savannah, Macon, Augusta, and Columbus, we know exactly what it takes to get a Georgia event seating project done no matter the location.  Whether you are looking to rent indoor or outdoor bleachers in Georgia, we have you covered. Our large fleet of mobile/towable bleacher and VIP systems are ready to ship directly to your event!
Our Customers Say It Best
Michael and the team have always delivered exactly what they said and on time every time. I would highly recommend using these guys whenever you can.
Rental Bleachers Inc was great to work with and the temporary seating looks awesome. We have used RBI for numerous events over the last few years and the quality of the bleachers is unbeatable plus the customer service is hands down the best.
Temporary Seating and Bleacher Options in Georgia
+ Make someone feel special!  Add a VIP Hospitality Suite for fans and/or staff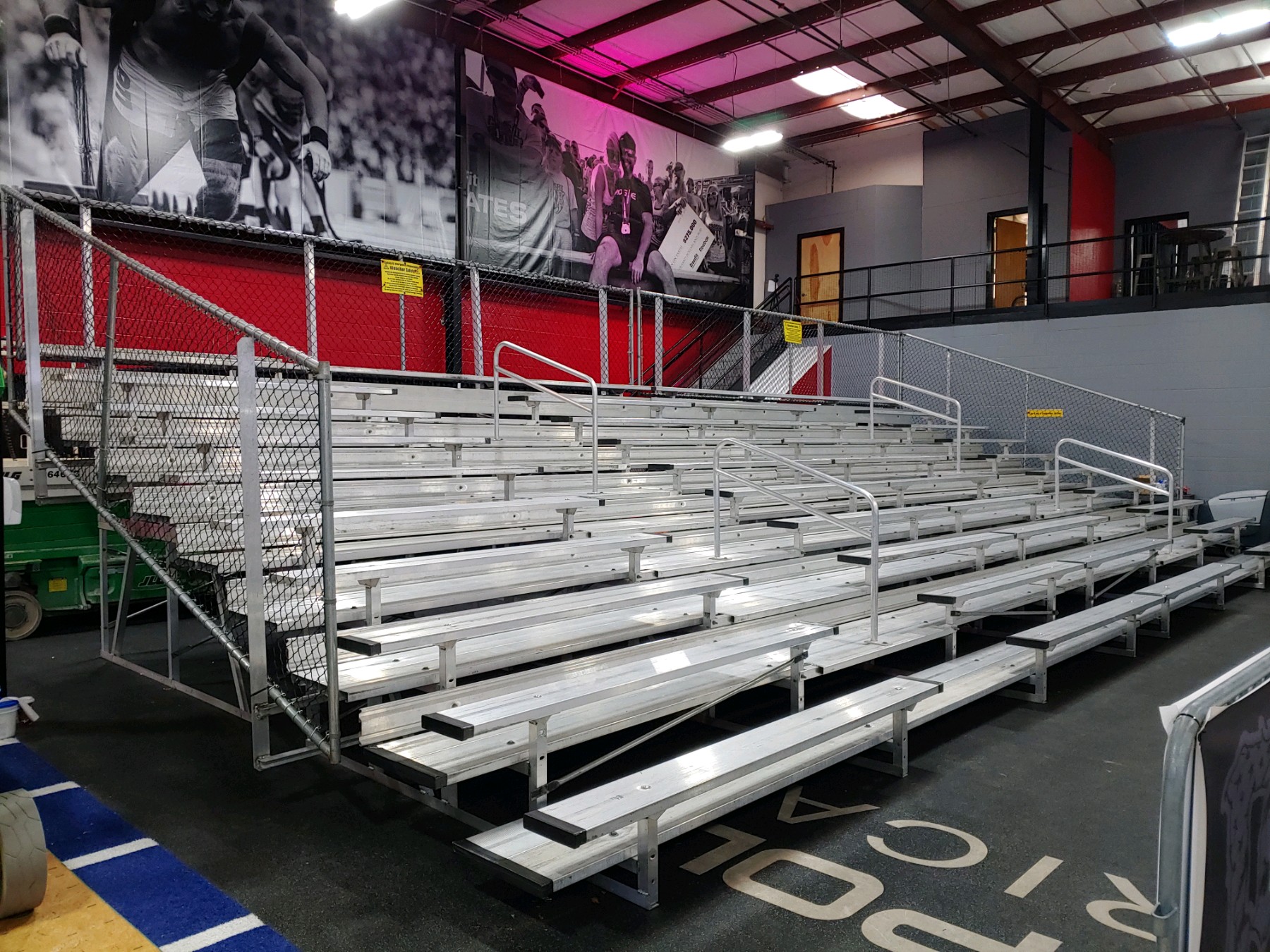 Traditional Bleachers
These standard bleachers can be installed in 5, 10, or 15 rows high (call for details).  These products are assembled on site.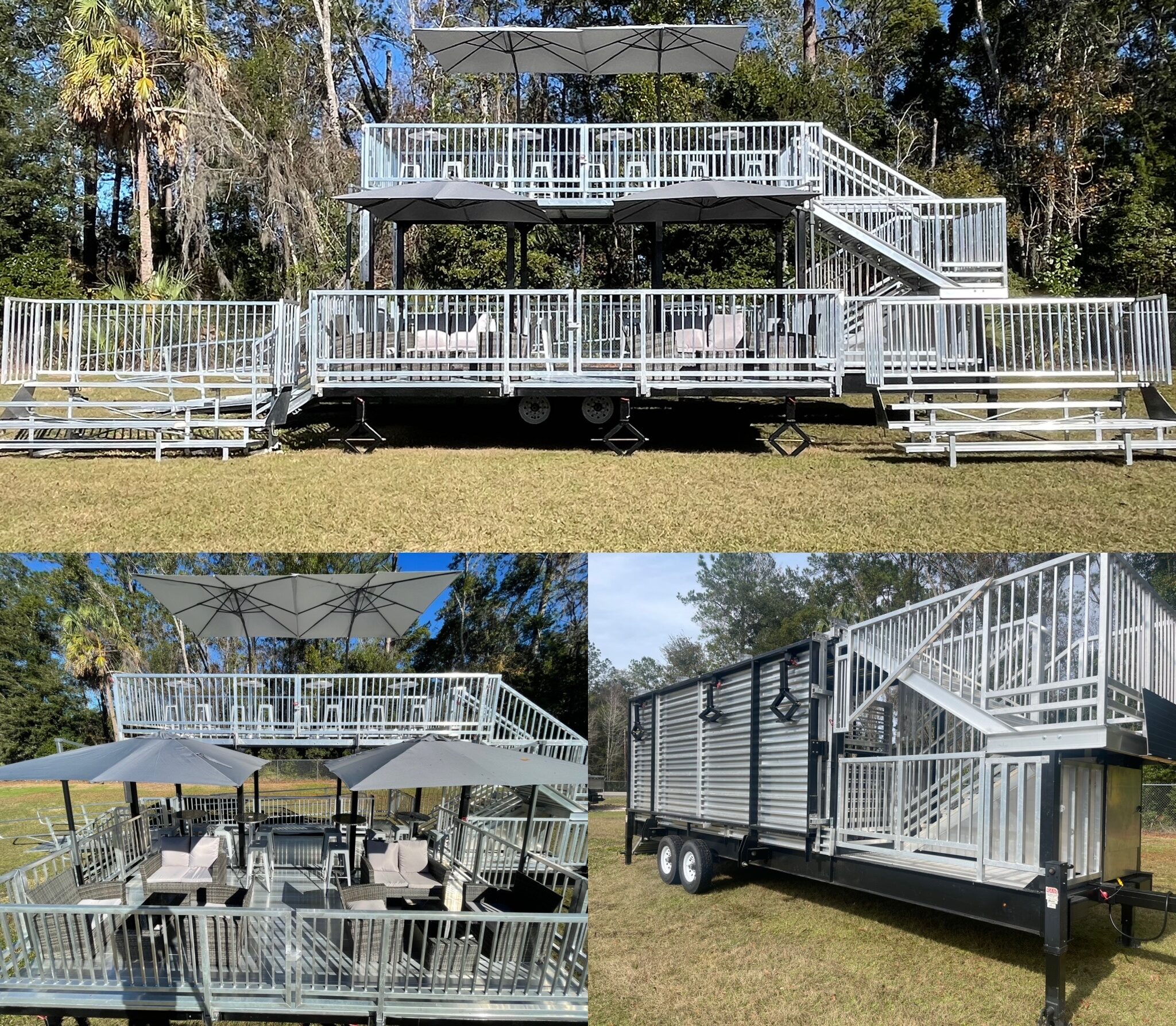 Elevated Event Deck
Mobile VIP event deck with ADA compliant wheelchair ramp, multiple seating locations and removable umbrellas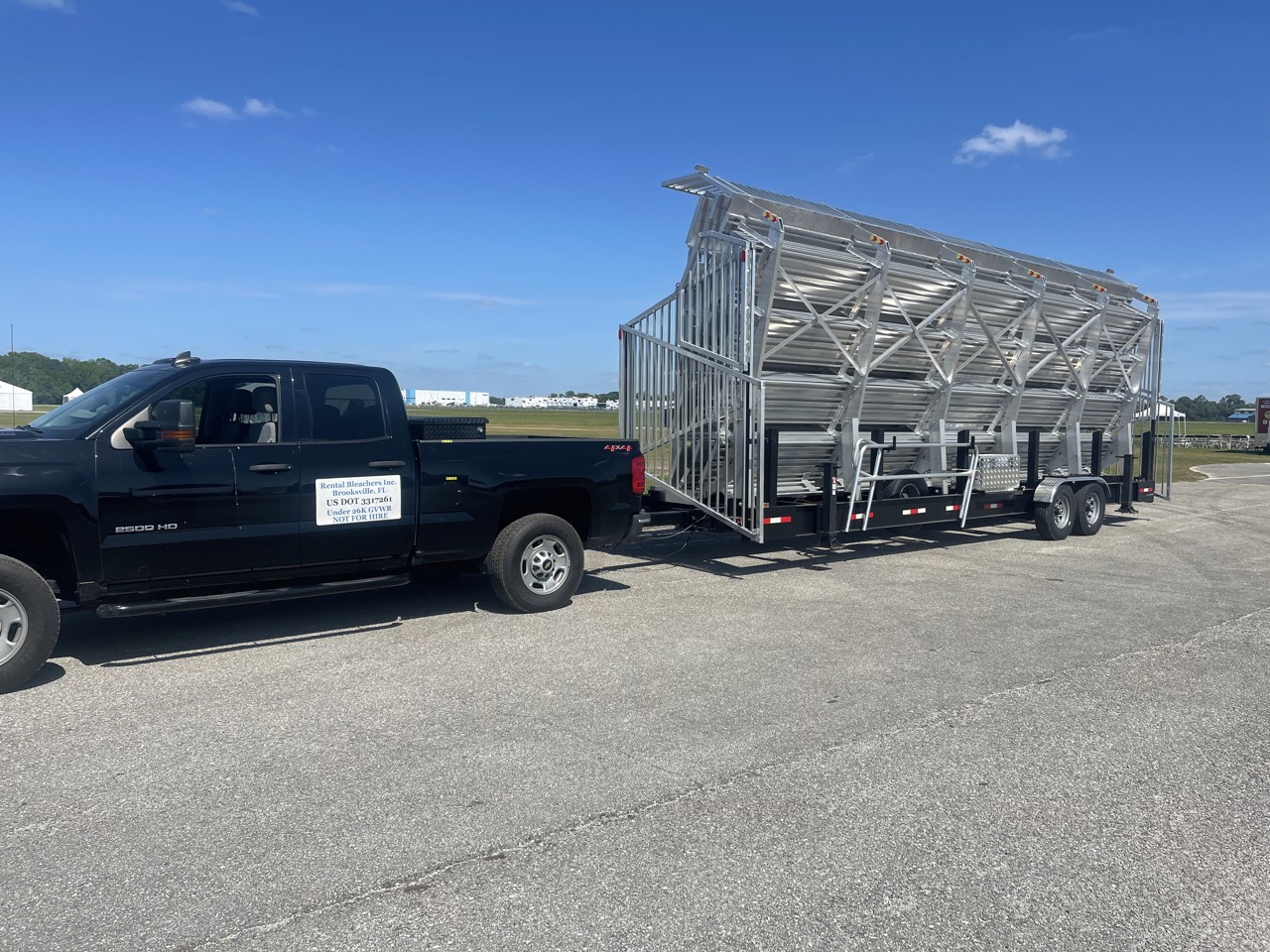 Mobile Bleachers
Mobile or Towable bleachers are an excellent choice for events with a tight delivery or removal time frame.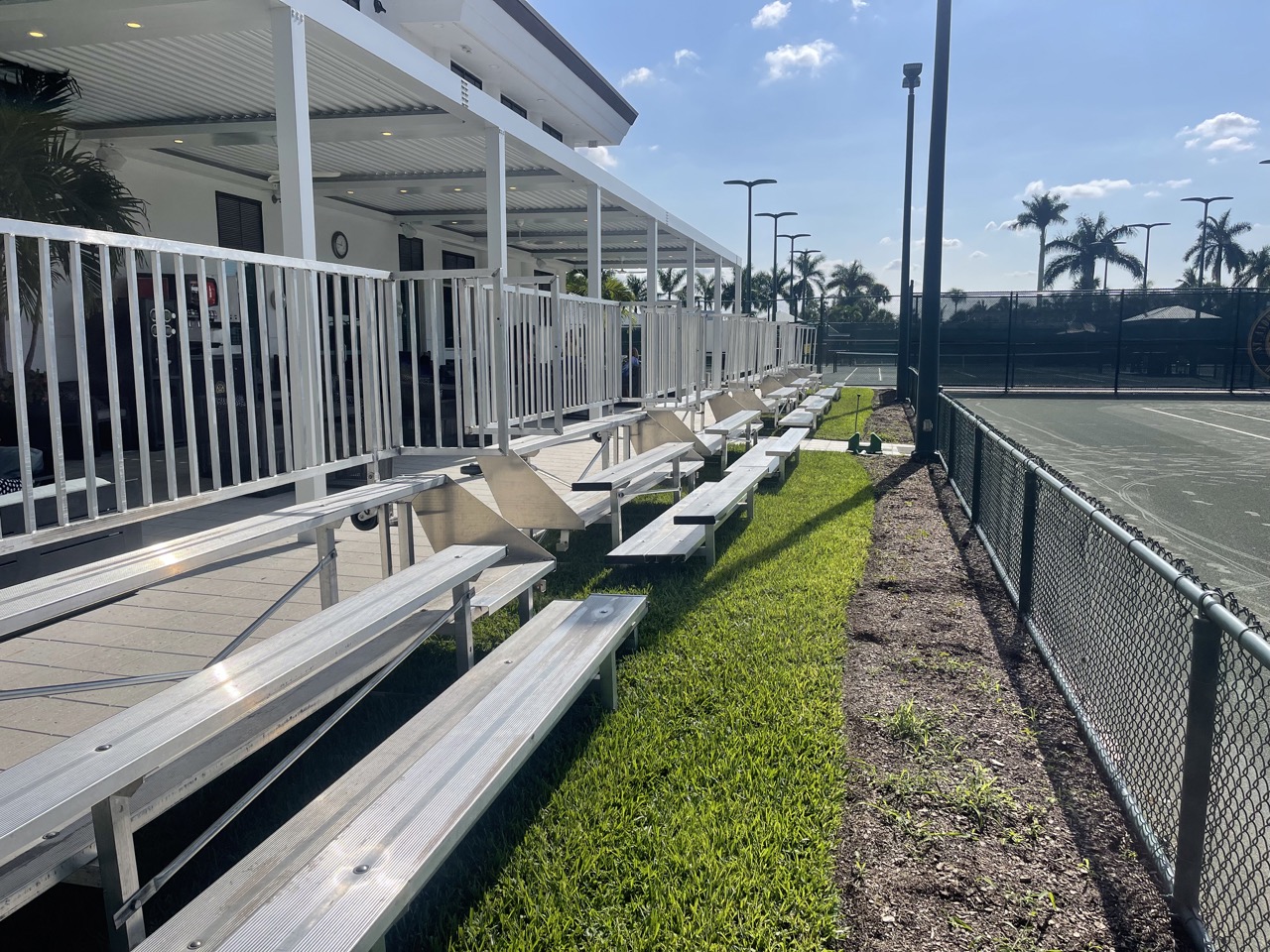 3 Row Bleachers
An intimate layout that is perfect for seating  small crowds in tight spaces. Easily moved around as needed.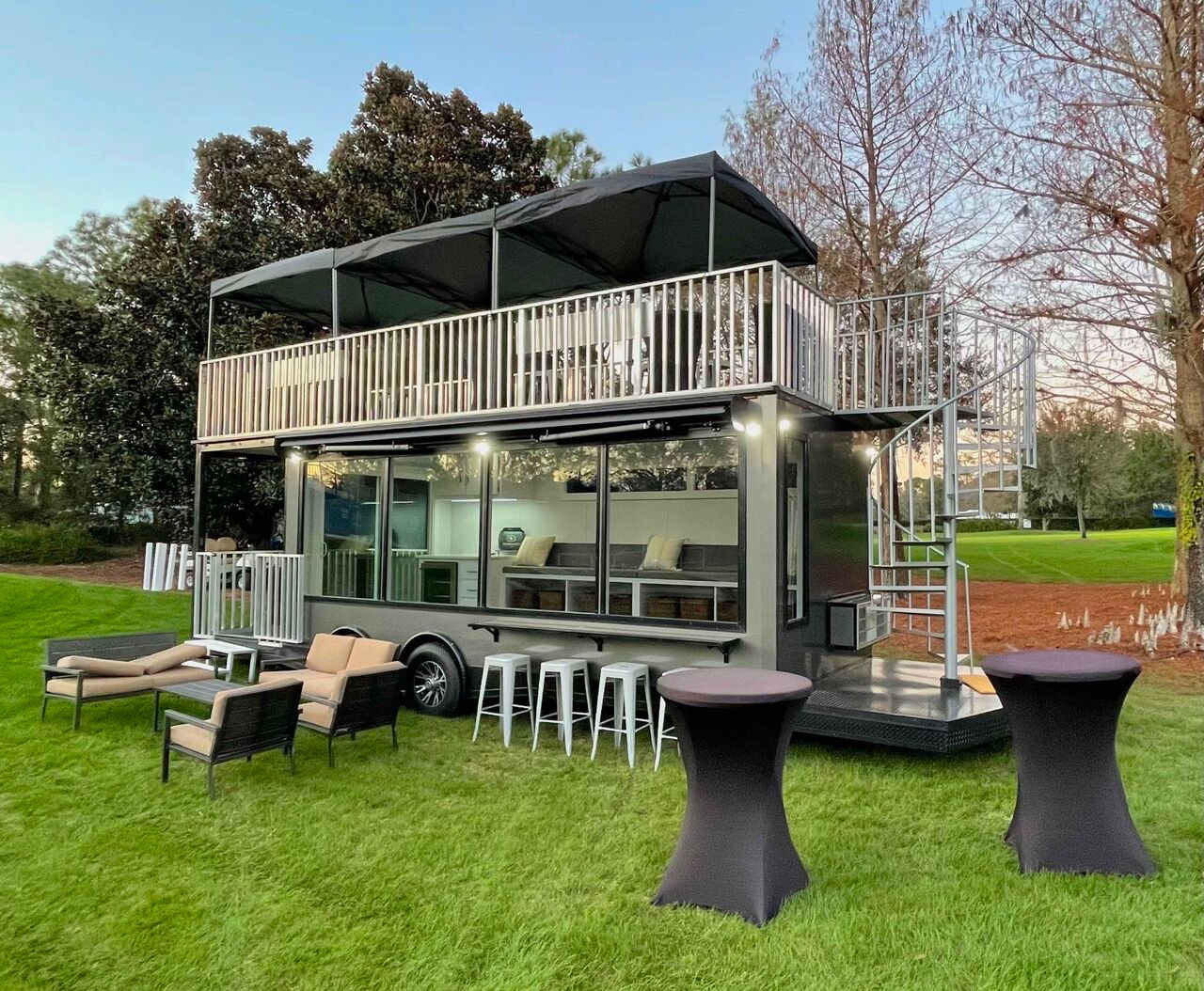 Hospitality Suites
Air conditioned event suites for VIP areas and Corporate Hospitality suites.  Optional tented or covered roof deck.  
What is The Process Like?
It's easy to rent bleachers in Georgia with Rental Bleachers, Inc.  You give us the details for your event, and we take care of the rest. We make sure the bleachers are up to standards for all Georgia state and local county and city codes and ordinances.
Our top priority is to ensure our rental bleachers are set-up and looking great before the event, and to quickly remove all our equipment as soon as the event is over. 
Give us a call or send us an email with your event details, and we'll help you knock seating options off your checklist for your event so you can focus on giving your guest the best experience.
1. Contact RBI with Event Details
In order to provide accurate costs and options for your event, you will need to know the following information:
City and State of event
Event Dates or length of rental period (i.e 1 day, 1 week, 1 month)
Number of people you want to seat in the bleachers
Indoor our outdoor event
Any special or unique details of your event or location
2. Agree on Contract and Terms
RBI will put together a formal contract with all of your unique event information and once agreed upon by both parties and executed, we enter into the planning stage of the project.
3. Planning for Bleacher Rental
During this phase of the contract, RBI issues appropriate insurance certificates and sealed drawings (if required). If any changes are needed on the clients end regarding schedule or layout, this is the time to make required modifications. 
4. Delivery and Assembly of the Bleachers.
Delivery of the materials requires access to the area for the trucks and trailers (Unless pre-discussed with other terms)
The assembly time can range from a few hours to a few days depending on the size and scope of the project.
Our crews are safety first and wear all appropriate safety gear during this phase. 
5. Awesome Event with Lots of Seating
Do your thing, our bleachers sit tight, even if your attendees don't!
6. Bleacher Removal
After the event, RBI will arrive at the agreed upon time and start the removal process. The removal process is usually a little faster than the assembly.  After the removal the site is left just as it was prior to assembly with the exception of any trash accumulated by the event which is the clients responsibility 
Some of our Recent Georgia Bleacher Rentals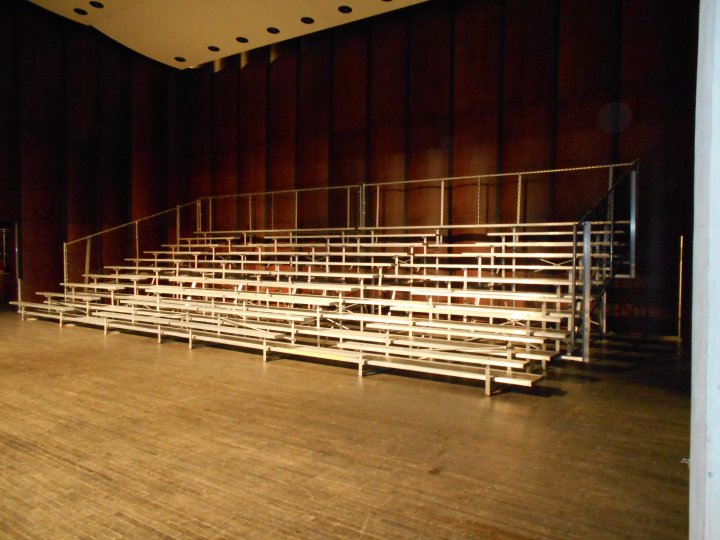 Athens Georgia
Bleacher installation inside of a covered tent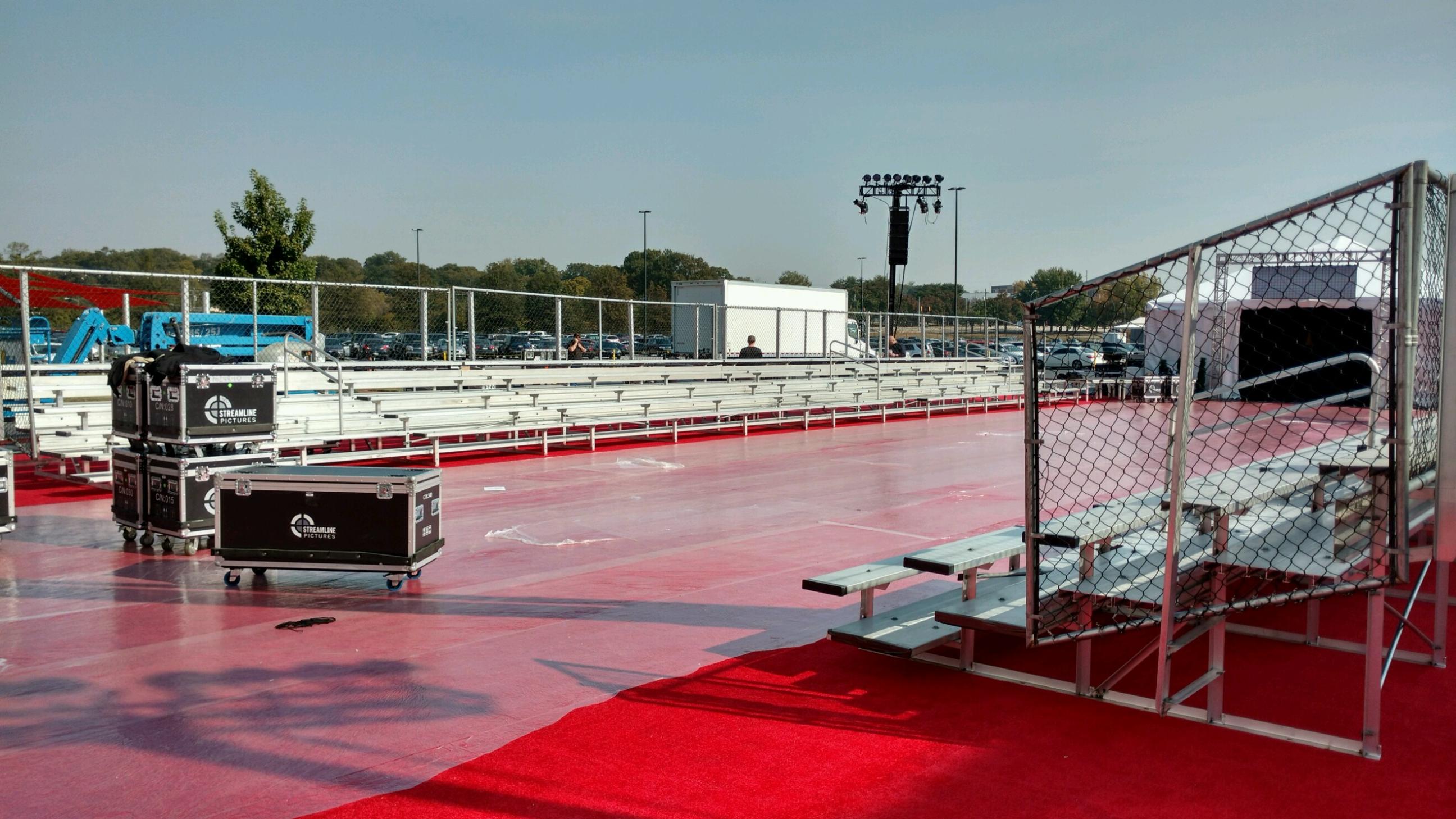 Atlanta Georgia
Bleacher rental for a formal red carpet event in Atlanta, GA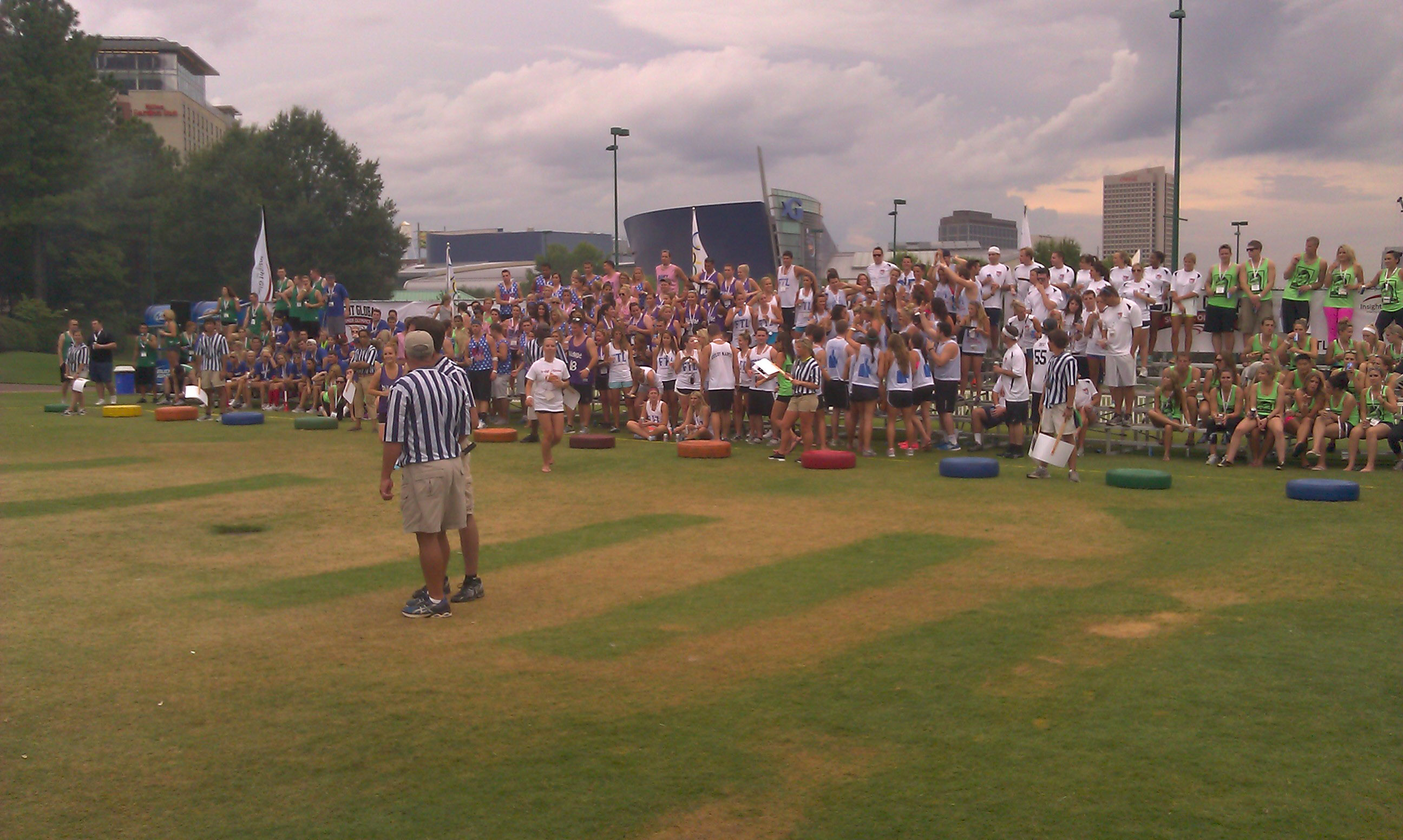 Centennial Olympic Park
Corporate event in a famous park requires lots of heavy lifting.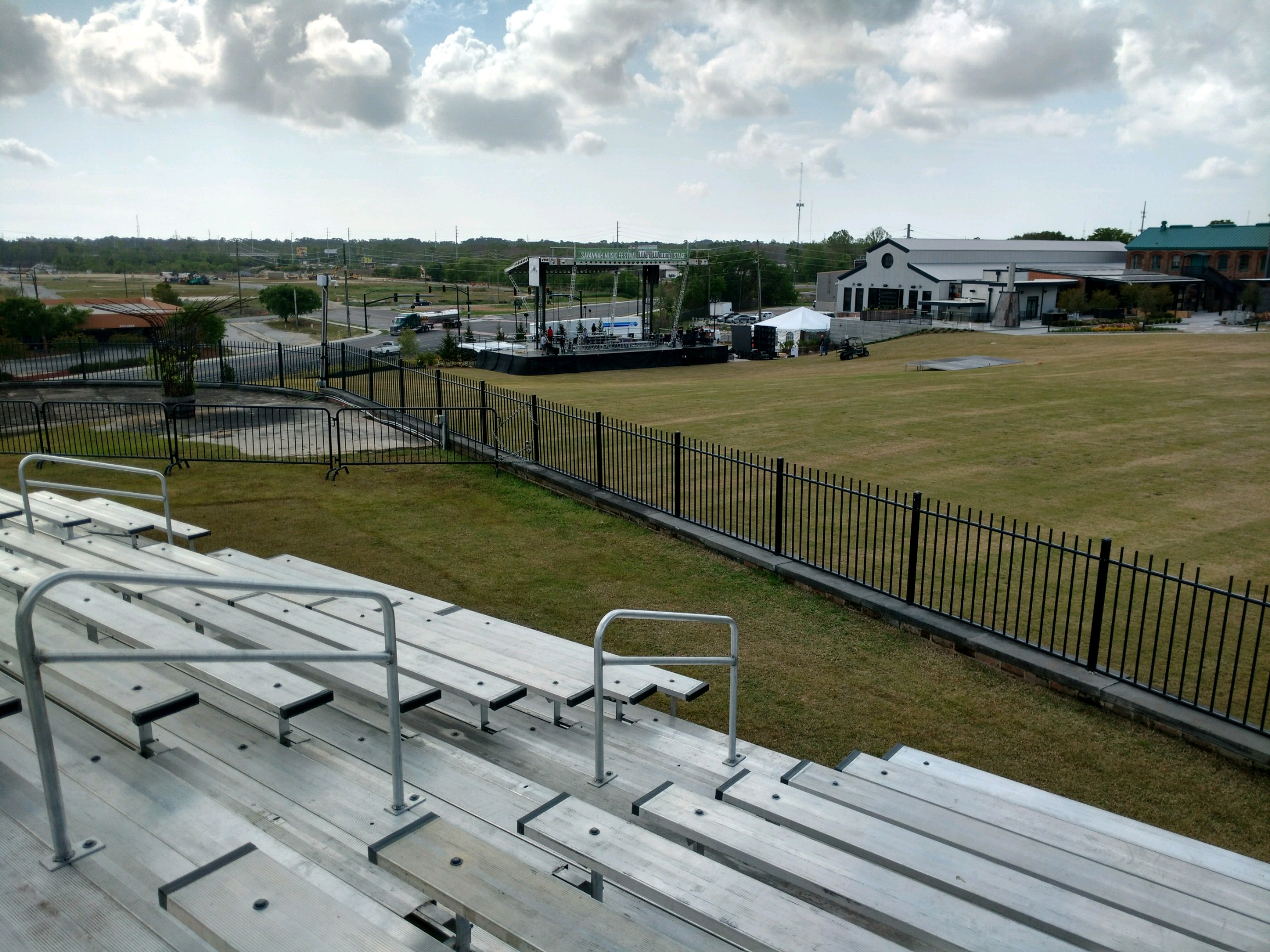 Savannah Georgia Music Fest
Short term bleacher rentals for music festivals.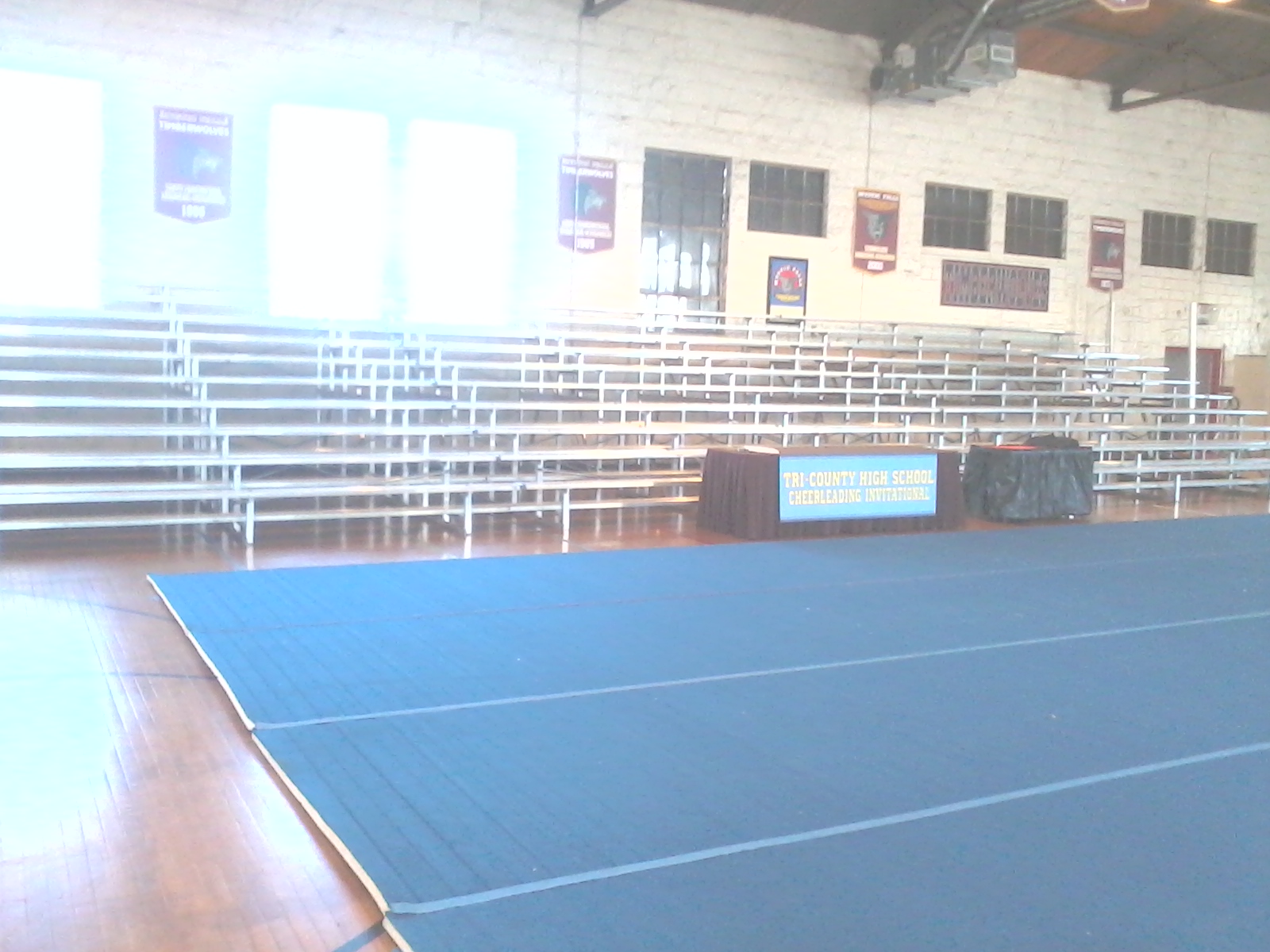 Movie Production Set
Bleacher installation on wood floors for a movie set.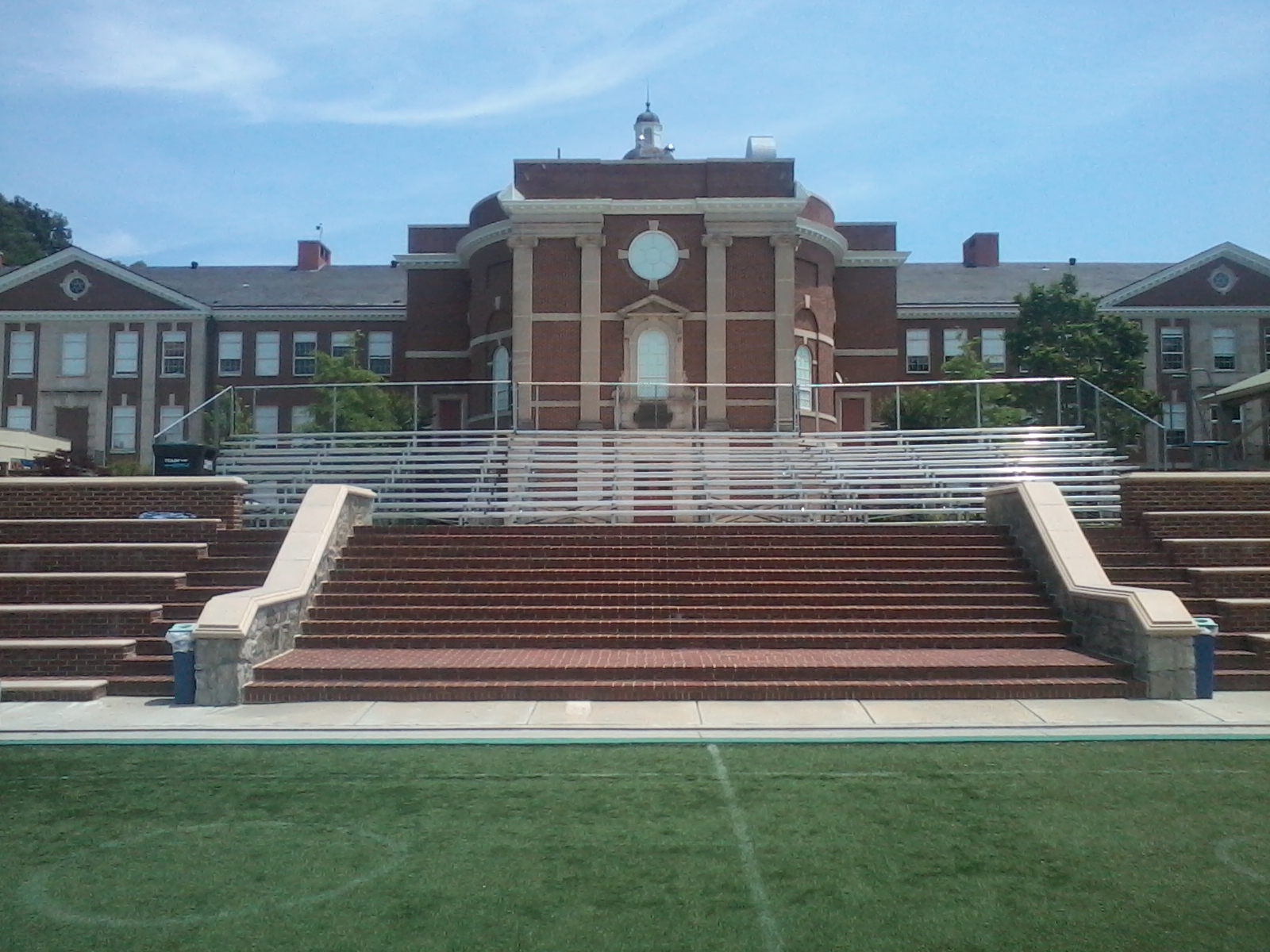 Atlanta Soccer Tournament
Temporary seating for a private school soccer tournament.
University of Georgia Music Theater in Athens Georgia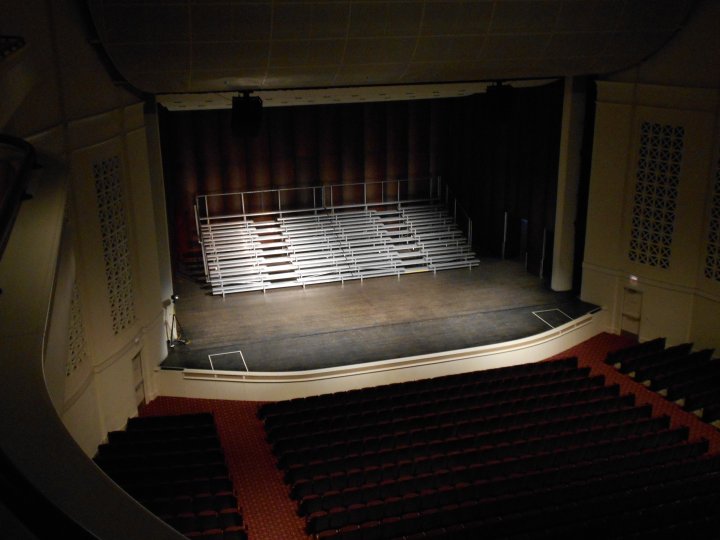 The bleachers used for this event are a 42' long 10row bleacher unit with 2 mid-aisles for access to the seating.
This event has taken place the last two years in the winter season and once installed it really looks great.  The bleachers are used for choir type performances and takes place inside a really cool theatre style venue.  The installation is a bit difficult as the materials must be hand loaded inside and the carried into the area for set-up.  The end result however is worth the effort and the clients always love the bleachers.
The aluminum angle frame system takes approximately 3 hours for completion.  Because of the weight of our bleachers we can provide this option to our customers at a competitive price even though we are located over 8 hours from the venue. Aluminum bleachers allow us to load more on a trailer with less weight and therefore less expense for the project.
Athens Georgia is a wonderful city to work in and always has great things to do when in town.
Red Carpet Event
in Atlanta, Georgia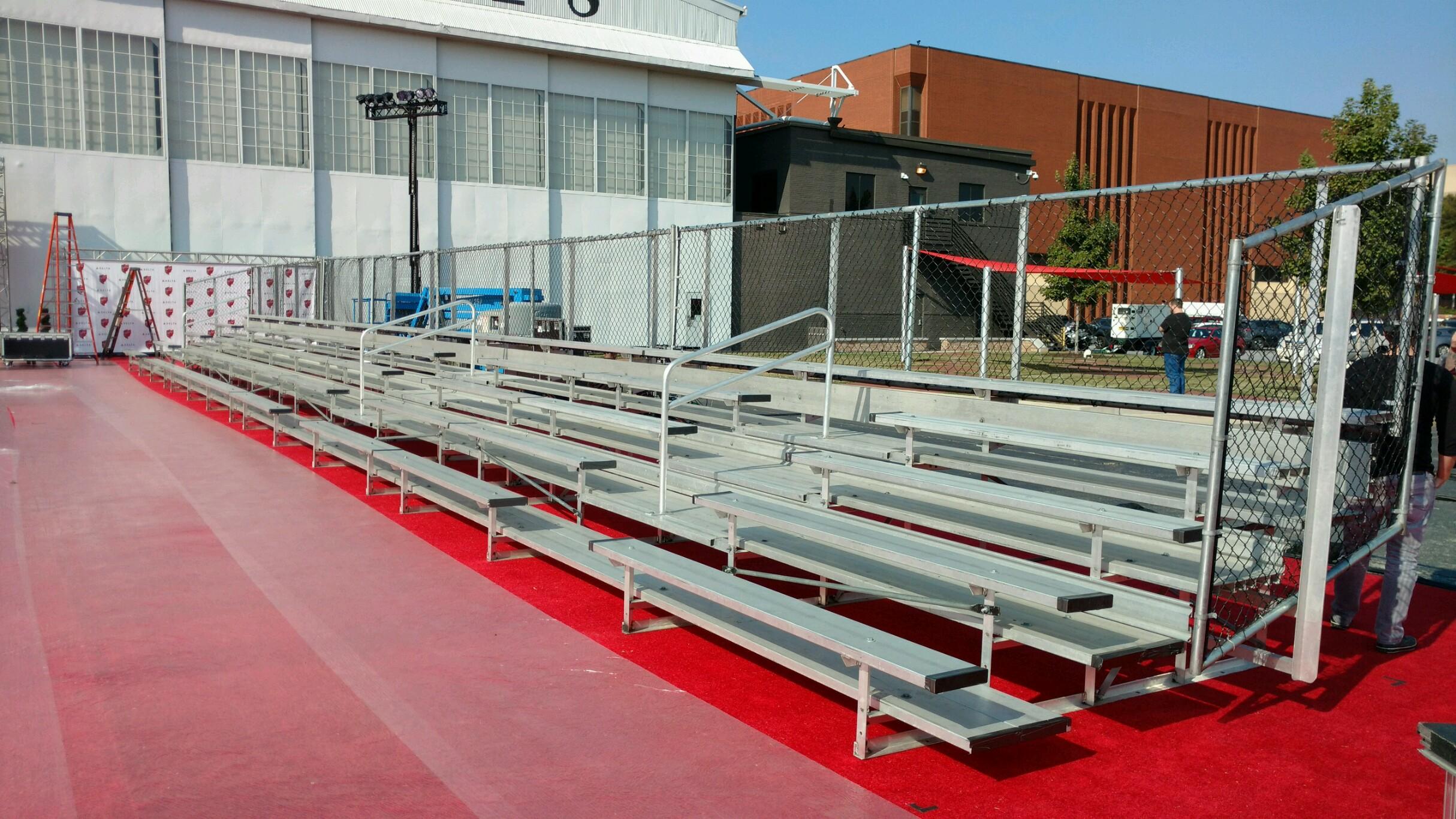 At this project we supplied 5 row non-elevated aluminum bleachers seating a total of 600 guests.
Bleachers can be used for many different types of projects, from equestrian events to sport venues and music productions.  However the quality and maintenance of the bleachers will definitely come into play. 
For example, a client who wants to use the bleachers for a more formal event such as tennis or fashion runways would not want the bleachers to have just come from a Rodeo with dirt and dust all over them.
RBI takes pride in not only our quality equipment but also our preventative maintenance and cleaning standards. Nothing shows this more than a "Red Carpet" event.  We have supplied bleachers for many such projects including this event which we have supplied temporary seating for 4+ years. 
This client uses the bleachers to seat guests dressed in formal wear and dirty bleachers would not have ever been acceptable.  
Centennial Olympic Park Atlanta Corporate Event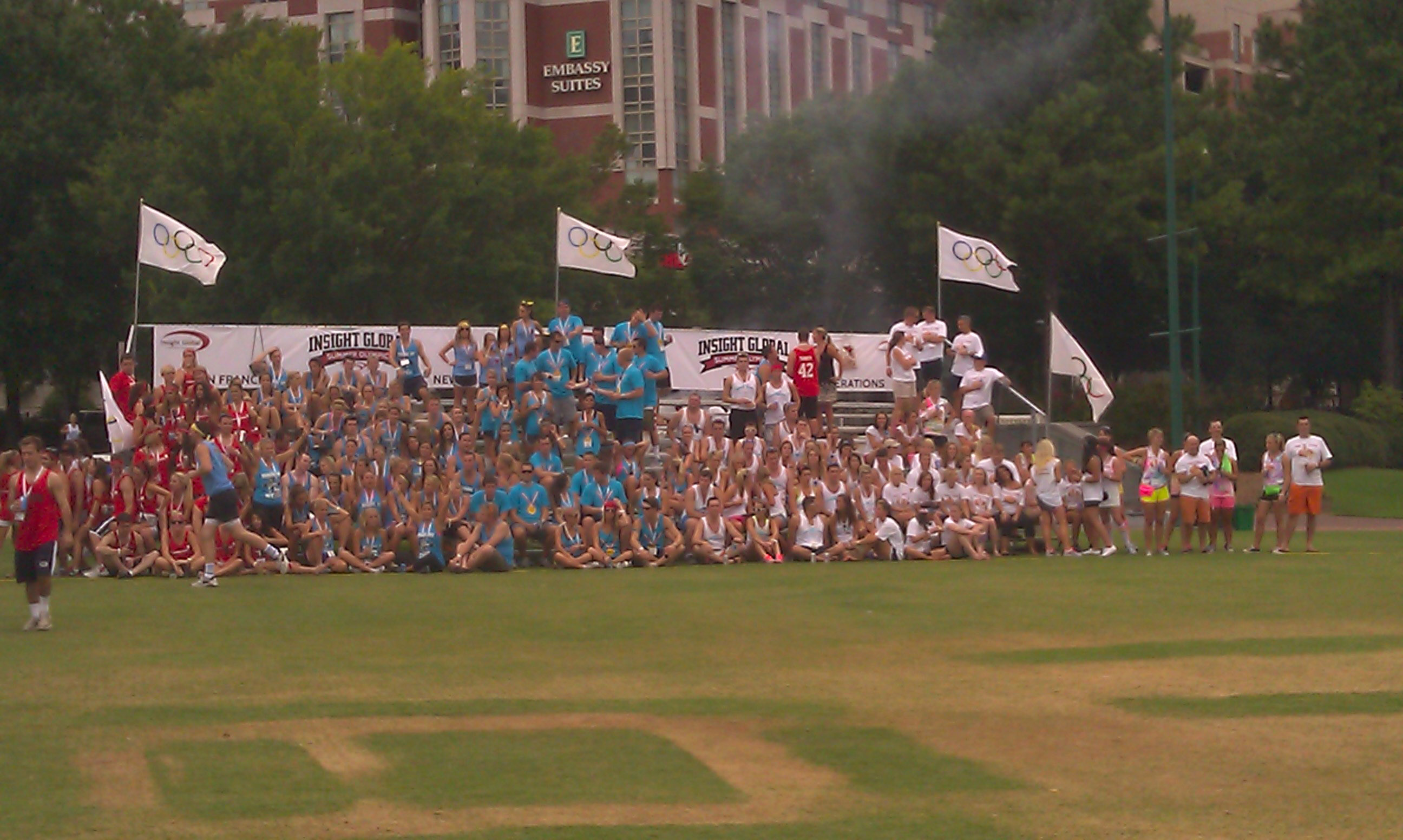 The bleachers installed here the first season were 10 sections of 5 row bleachers and 2 sections of 10 row bleachers however last year the event grew to 10 sections of 10 row bleachers installed in 2 – 84' long units and 1- 42' long unit. Total seating of 1,200 @ 18" per seat
The last two summers we have provided seating for a really cool corporate team event.  This client uses temporary bleachers to make a outdoor stadium feel come to life in downtown Atlanta Georgia. 
This event requires a lot of heavy lifting.  The closest location for a truck and trailer is quite a distance and the materials must be hand carried across the park grass as no equipment is allowed on site.  This project also requires installation to take place between 1am and 8am which means that we must provide lighting but because the area is close to a hotel and housing no generators are allowed. 
This makes installing the bleachers take just a little longer using battery operated tools to complete the project.  But, when the sun comes up in the morning and the stadium area is complete it really is a site to see on such a famous park in the heart of the busiest city in the south.
Music Festivals in
Savannah, Georgia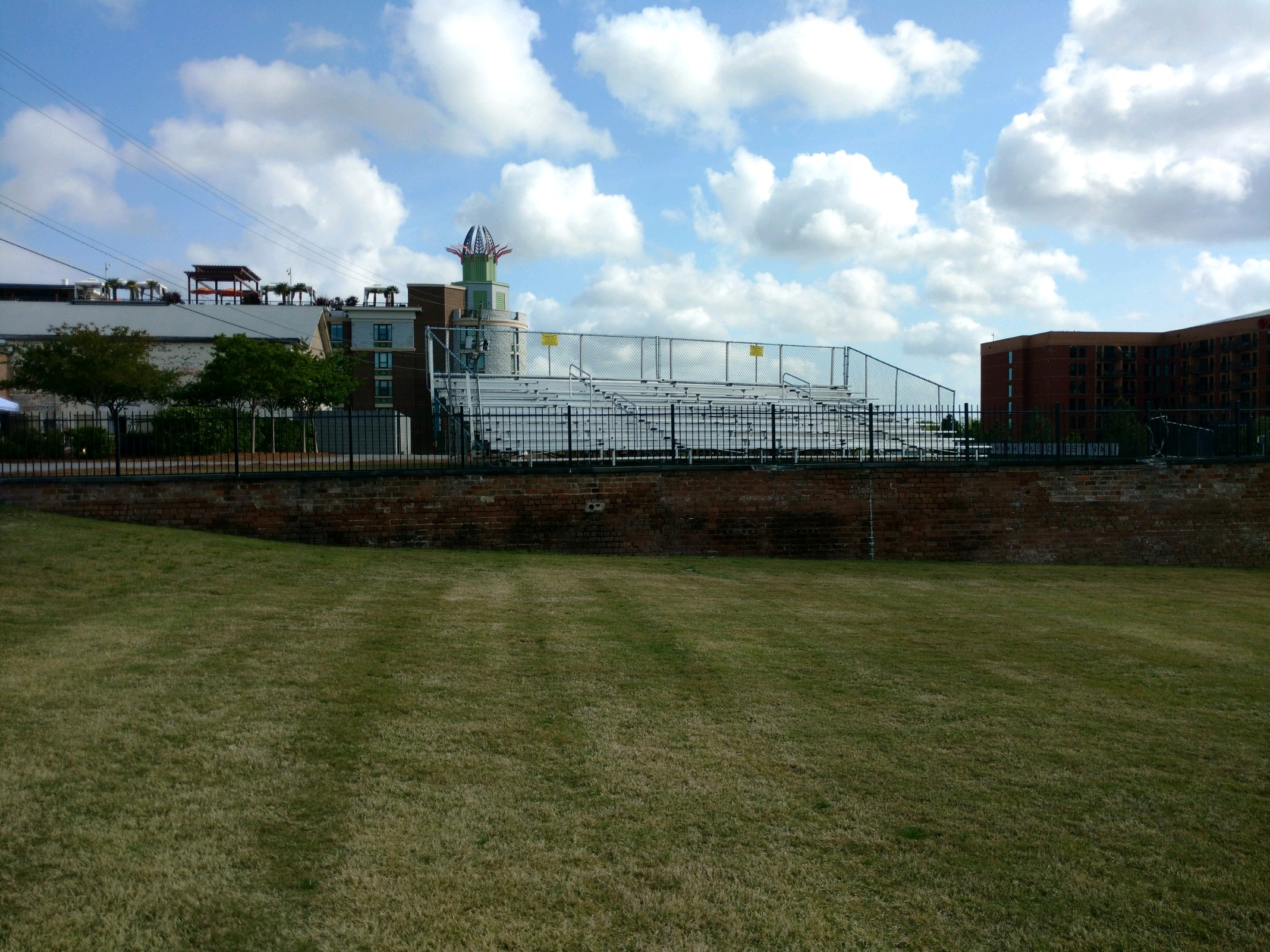 The rental seating used during this event was 19 sections of 21' long 10 row bleachers installed in 4 sections of 84' long and one section of 63' long.
RBI had the opportunity to provide temporary seating for an amazing project in Savannah GA.  The client was wanted to elevate some of the viewing areas in the park and we provided around 500 seats using 10 row bleachers. 
The end result was pretty great! We installed several sections of rental bleachers, with the larger section going on a hill above the stage area making for a great place to watch the festivities.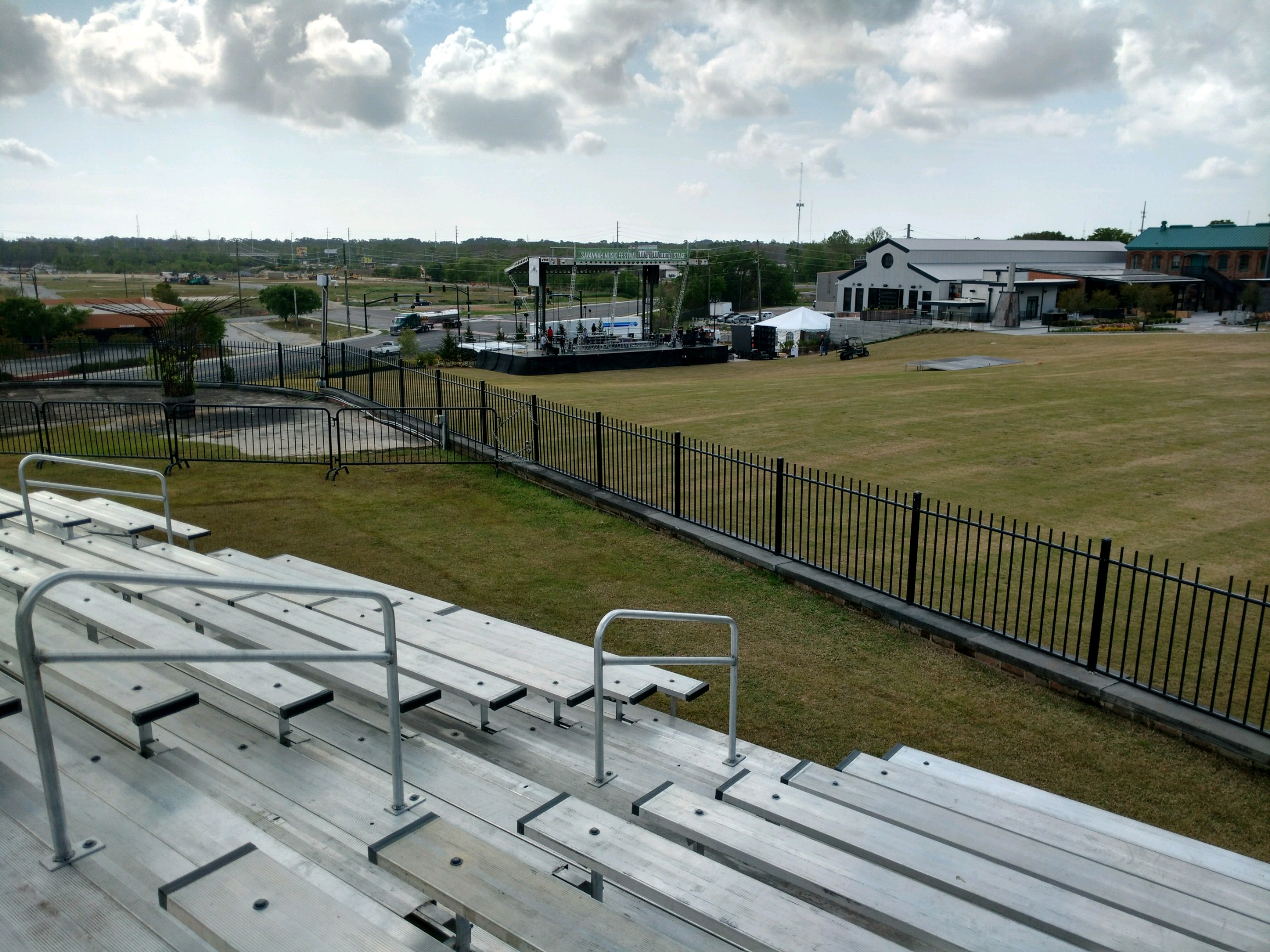 Television and Movie Production Sets in Georgia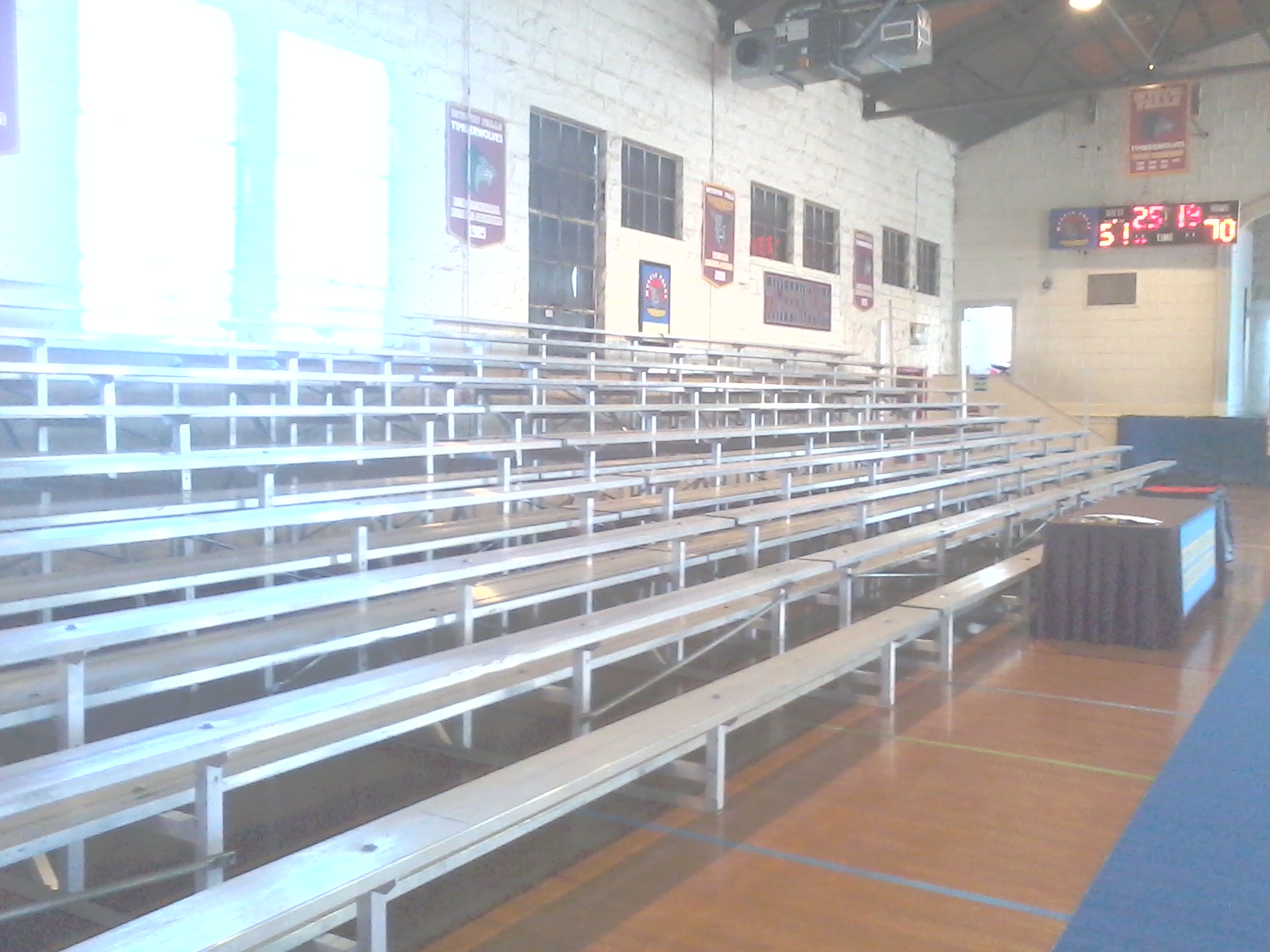 The rental seating used during this event was 19 sections of 21' long 10 row bleachers installed in 4 sections of 84' long and one section of 63' long.
Over the winter, RBI installed temporary bleachers for a movie production set. The client used an 84' long 10 row bleacher along a wall inside an older gymnasium to create the look and feel required for the set. Special care was needed due to the nice wooden floors of the gym.
RBI has provided seating for numerous television movie production companies in the last few seasons. In Georgia we have provided rental bleachers for movie sets on many occasions, including bleachers for the movie set "42" in Macon Georgia as well as an episode of another show in Saint Mary's,  Georgia.
We have provided for numerous commercials and staging events also. Savannah offers great locations for production companies as does Atlanta, Macon, Stone Mountain, and many other areas in Georgia.
Private School Soccer Tournament in Atlanta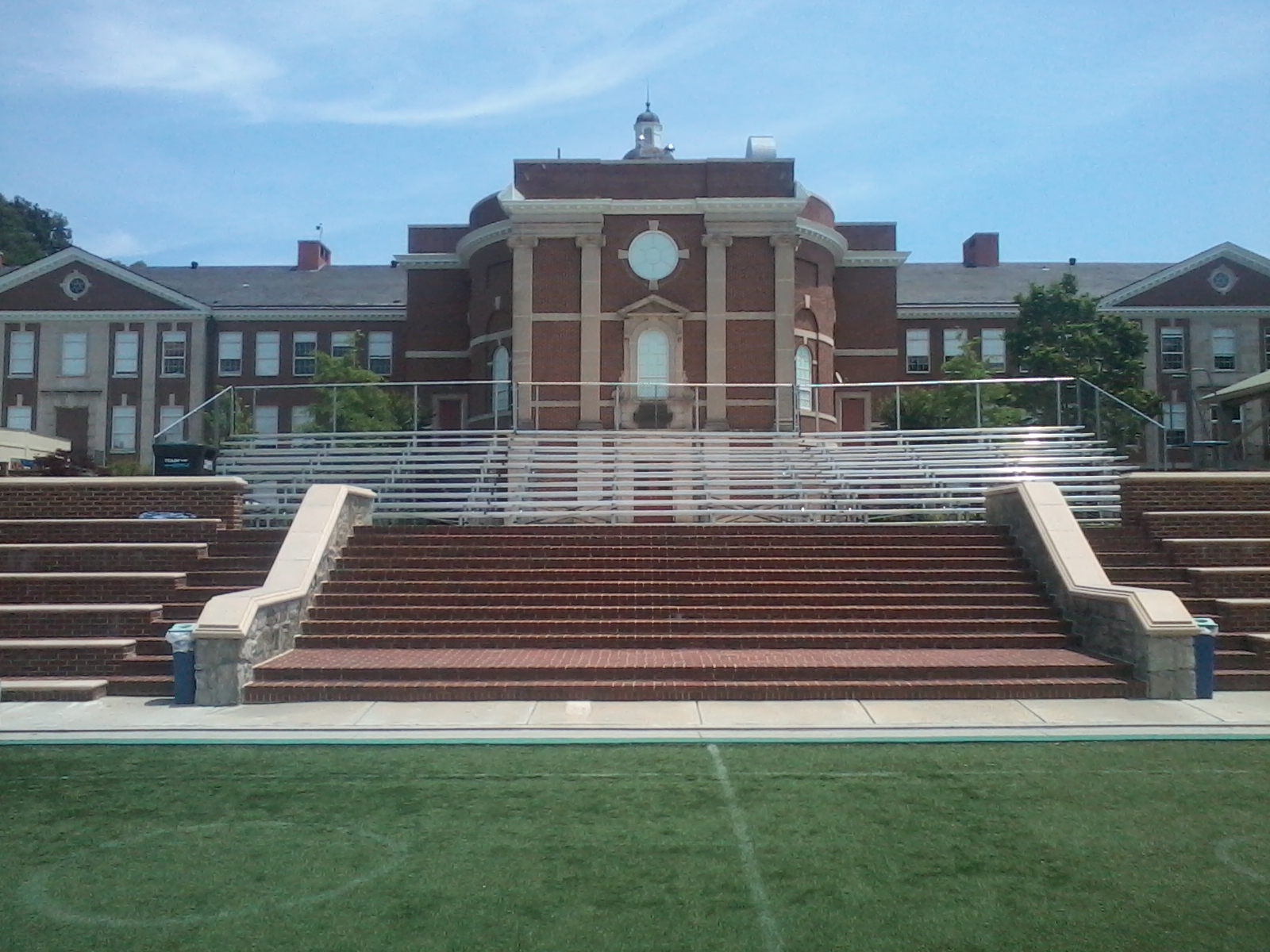 The system used here is a 63' long 10row bleacher with 2 mid aisles seating 375 @ 18" per seat 
For two seasons in a row we have provided a 63' long 10 row bleacher unit seating 375 people for a soccer tournament at this private school located in Atlanta, GA.  The location of the bleachers is unique as it sits on top of an elevated concrete structure overlooking the field and with an awesome view of the facility also.
Even though this is an outdoor event it still requires a bit of labor to get all the materials to the area of installation.  The closest loading area for equipment is around 100 yards from the area so a little walking is needed to make it happen, but the results are apparent. 
This rental system looks so great that it really would be a great permanent location for the bleachers.
Get a Quote for Bleacher Rentals!
We would love to help you make the most of your event with RBI's bleacher rental service.   If you would like more information, a free quote, or  would like to share your RBI experience, please fill out the form below!
Resources for Georgia Bleacher Rentals:
We provide full service for bleacher seating all across Georgia, and have worked in major cities such as Atlanta, Macon, Savannah, August, and Columbus, as well as smaller cities such as Pooler, St. Mary's, Statesboro, Albany, Roswell, etc. Often times we even work with counties such as Chatham, Dekalb, Gwinnett, Montgomery, Peach, Lumpkin, Putnam, Decatur, etc. for county events.