Long Term Bleacher Rentals
You Can Rent Bleachers for an Entire Season
​RBI often provides long term bleacher rentals for business or events that need to rent bleachers for several weeks, months or for an entire season.  These longer term rentals are typically by events/clients that have unique situations where they do not currently own a property and do not want to buy bleachers or they simply do not have the current funds to buy permanent seating and need a temporary (yet long-term) solution.
RBI's long term bleacher rentals are a perfect fit for these types of situations.  Most of these clients need to rent bleachers, however long term rentals are typically not provided and can quickly become very costly to clients.   Fortunately, RBI specializes in these types of long term bleacher rentals.  Because RBI has a large bleacher inventory of around 10,000 seats, we can rent out portions of these for longer periods without affecting our ability to provide bleacher rentals for other projects.
A very common time of year for placing long term bleacher rentals is during football season.  The majority of our longer term bleacher rentals comes from high schools looking to add additional seating to their stadium for the season or new schools who have not yet funded the new bleachers they will need.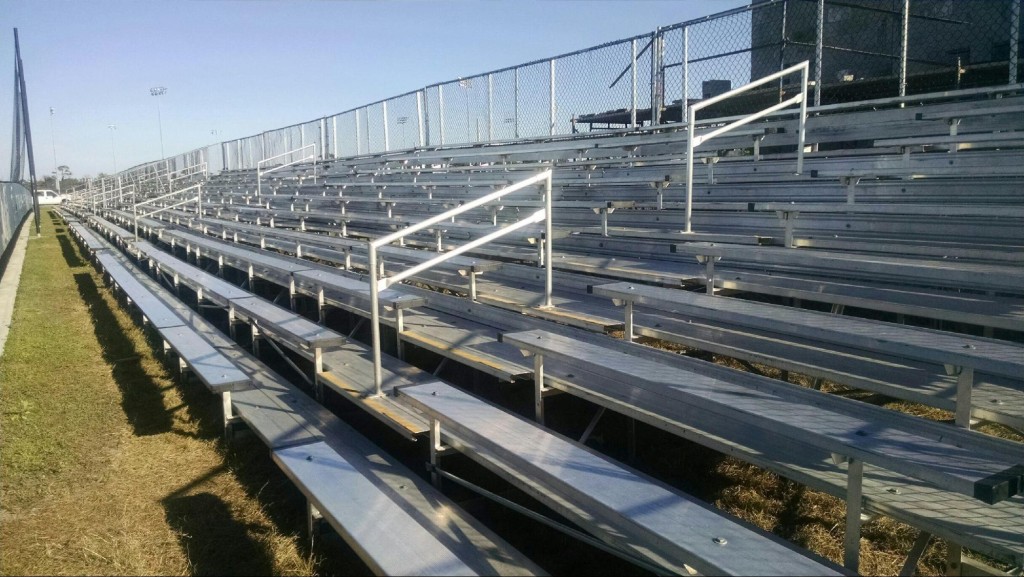 This spring RBI has had the good fortune to be a part of a Soccer team here in Florida who will be having home games at a location in Melbourne from March until October.  
RBI has provided around 2000 additional seats for this period using a combination of 3, 10, and 15row units.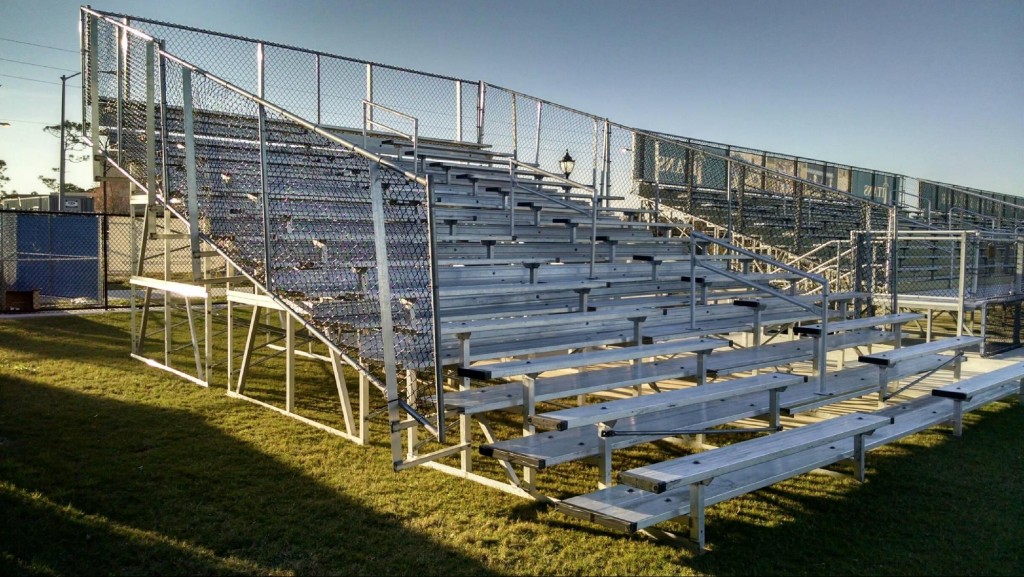 Here is an image of a 15row unit installed next to the existing stadium.  This was done at each end of the field to add around 370 seats.  They are fully compliant and all aluminum construction.
In the end zone area we installed approximately 225'' of 10 row bleachers with a seating capacity of around 1350 seats @ 18" per seat.   This allows for a lot more fans!
If you are in need of a long term bleacher rental for your sports season, park, or other special event, please contact us today to discuss how we can help you add more spectator seating at your events!
What is The Process Like?
It's easy to rent bleachers with Rental Bleachers, Inc.  We make sure the bleachers are up to standards for your local codes and ordinances, we make sure the bleachers are set-up and looking great before your event, and we make sure you never knew we were there once the event is over. 
Give us a call or send us an email with your event details, and we'll help you knock seating options off your checklist for your event so you can focus on giving your guest the best experience.
1. Contact RBI with Event Details
In order to provide accurate costs and options for your event, you will need to know the following information:
City and State of event
Event Dates or length of rental period (i.e 1 day, 1 week, 1 month)
Number of people you want to seat in the bleachers
Indoor our outdoor event
Any special or unique details of your event or location
2. Agree on Contract and Terms
RBI will put together a formal contract with all of your unique event information and once agreed upon by both parties and executed, we enter into the planning stage of the project.
3. Planning for Bleacher Rental
During this phase of the contract, RBI issues appropriate insurance certificates and sealed drawings (if required). If any changes are needed on the clients end regarding schedule or layout, this is the time to make required modifications. 
4. Delivery and Assembly of the Bleachers.
Delivery of the materials requires access to the area for the trucks and trailers (Unless pre-discussed with other terms)
The assembly time can range from a few hours to a few days depending on the size and scope of the project.
Our crews are safety first and wear all appropriate safety gear during this phase. 
5. Awesome Event with Lots of Seating
Do your thing, our bleachers sit tight, even if your attendees don't!
6. Bleacher Removal
After the event, RBI will arrive at the agreed upon time and start the removal process. The removal process is usually a little faster than the assembly.  After the removal the site is left just as it was prior to assembly with the exception of any trash accumulated by the event which is the clients responsibility 
Our Bleacher Rental Service offers:
Code Compliant Event Seating

Seating from 50 to 5,000 people

Easily installed indoors and outdoors

Unmatched customer service!

Safe, clean and comfortable rental seating

All aluminum bleacher construction – No wood or steel

Easily "covered" to provide weather/rain protection for spectators

ADA compliant bleacher seating on request

Short and long-term bleacher rental rates
Thank you to your team at RBI for providing the grandstands for our event this season.  They were greatly appreciated and enjoyed.  We look forward to another great event next year!
Working with Michael and his crew since 2008 has been a producers dream. From the first contact, through set-up operation and teardown, the team is always professional. Their attention to safety, code requirements and detail is always Rental Bleachers first concern, putting me at ease satisfying local code enforcement officers… Awesome company to handle your bleacher requirements.
Get a Quote for Bleacher Rentals!
We would love to help you make the most of your event with RBI's bleacher rental service.   If you would like more information, a free quote, or  would like to share your RBI experience, please fill out the form below!