Elevated Event Deck
Truly next level viewing
The "Elevated Event Deck" brings a new level of viewing to any event.  The first elevated level is accessible via an ADA compliant wheelchair ramp and the rooftop is accessible via code complaint stairs.  The unit can be furnished using a number of layouts to accommodate from 30-50 total guests and additional ground level bleachers can be added for more seating.  
Elevated Event Deck
These systems can be used not only for spectator seating options but also "Front of House" for concerts and productions.  
The uses for this custom system are truly limited by imagination only.  They can be custom branded or set up for red carpet access or just used as an amazing location to view an event.  
The event deck system comes with a matching aluminum picket barricade fence (see images) which allows clients the option to create an exclusive space for guests.  Optional furniture packages can be provided as well. 
Some uses for this system beyond a VIP or Hospitality area are "front of house" for music festivals or "Air Boss Station" for air shows.  
Accommodates up to 40 People
concerts, sporting events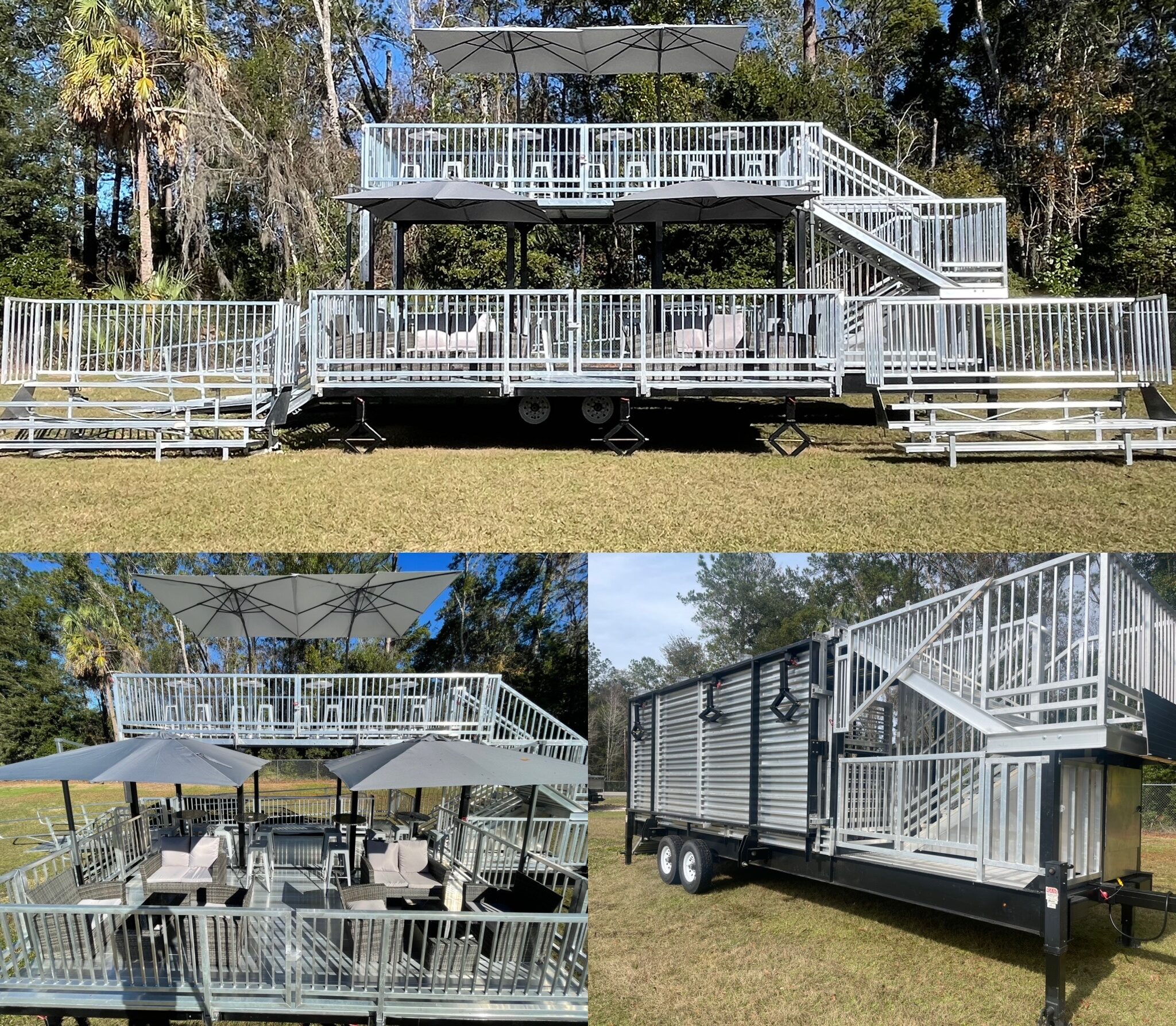 What is The Process Like?
It's easy to rent an Elevated Event Deck with Rental Bleachers, Inc.  We make sure the everything is up to standards for your local codes and ordinances, we make sure the suite is set-up and looking great before your event, and we make sure you never knew we were there once the event is over.
Give us a call or send us an email with your event details, and we'll help you knock seating options off your checklist for your event so you can focus on giving your guest the best experience.
1. Contact RBI with Event Details
In order to provide accurate costs and options for your event, you will need to know the following information:
City and State of event
Event Dates or length of rental period (i.e 1 day, 1 week, 1 month)
Number of people you want to seat in the bleachers
Indoor our outdoor event
Any special or unique details of your event or location
2. Agree on Contract and Terms
RBI will put together a formal contract with all of your unique event information and once agreed upon by both parties and executed, we enter into the planning stage of the project.
3. Planning for Bleacher Rental
During this phase of the contract, RBI issues appropriate insurance certificates and sealed drawings (if required). If any changes are needed on the clients end regarding schedule or layout, this is the time to make required modifications. 
4. Delivery and Assembly of the Bleachers.
Delivery of the materials requires access to the area for the trucks and trailers (Unless pre-discussed with other terms)
The assembly time can range from a few hours to a few days depending on the size and scope of the project.
Our crews are safety first and wear all appropriate safety gear during this phase. 
5. Awesome Event with Lots of Seating
Do your thing, our bleachers sit tight, even if your attendees don't!
6. Bleacher Removal
After the event, RBI will arrive at the agreed upon time and start the removal process. The removal process is usually a little faster than the assembly.  After the removal the site is left just as it was prior to assembly with the exception of any trash accumulated by the event which is the clients responsibility 
Our Elevated Event Deck:
Private VIP Experience for 40+

Open Concept

ADA Wheelchair Ramp

LED lighting

Shade Umbrellas or Tents

150+ SQFT Rooftop Deck

200+ SQFT Lower Deck

Custom wrap for branding opportunity

Safe, clean and comfortable seating

Short and long-term rentals available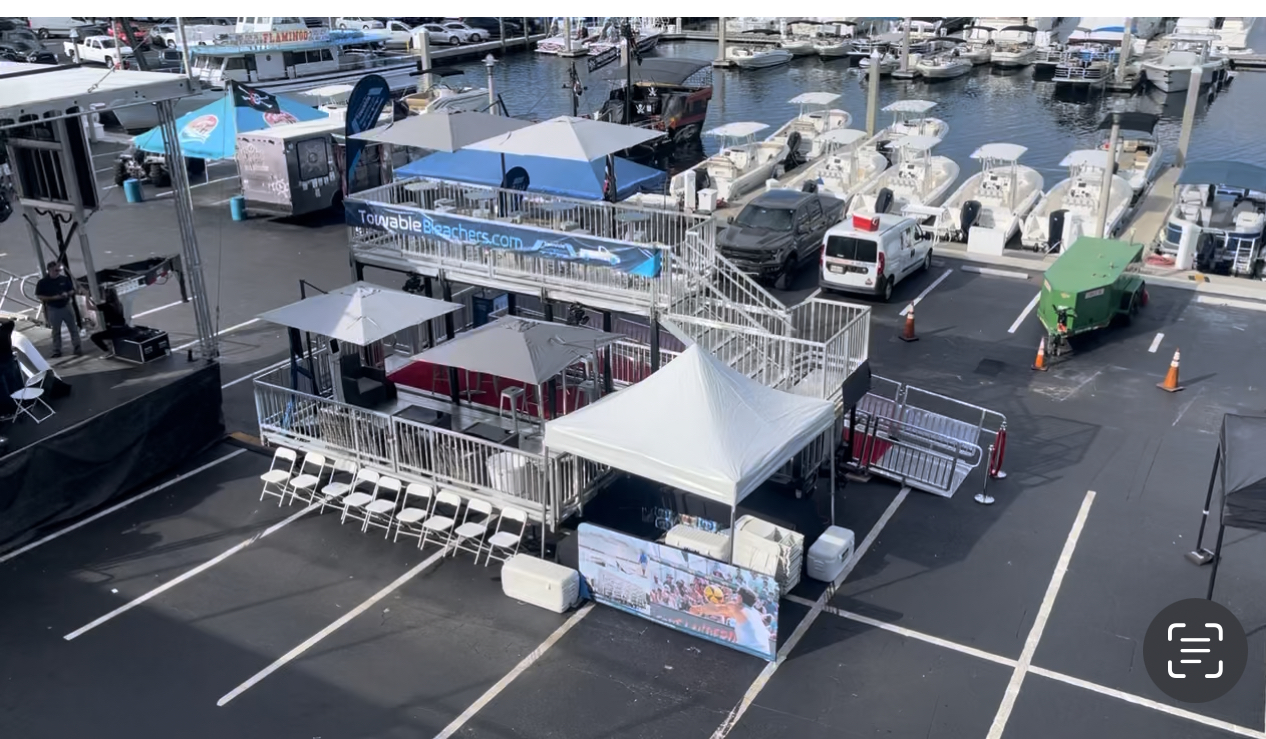 Thank you to your team at RBI for providing the grandstands for our event this season.  They were greatly appreciated and enjoyed.  We look forward to another great event next year!
Working with Michael and his crew since 2008 has been a producers dream. From the first contact, through set-up operation and teardown, the team is always professional. Their attention to safety, code requirements and detail is always Rental Bleachers first concern, putting me at ease satisfying local code enforcement officers… Awesome company to handle your bleacher requirements.
Get a Quote for Bleacher Rentals!
We would love to help you make the most of your event with RBI's bleacher rental service.   If you would like more information, a free quote, or  would like to share your RBI experience, please fill out the form below!