Carolina Bleacher Rentals
Rent Bleachers in North carolina and South Carolina
Need Extra Seating for Your NC / SC Events?
Short-Term Carolina Bleacher Rentals
If you need to rent bleachers for a weekend competition or a week long festival in North or South Carolina, we've got you covered!
Long-Term Carolina Bleacher Rentals
RBI offers long-term bleacher rentals, which is perfect for Carolina schools and local parks & rec looking to add some extra event seating.
Rental Bleachers, Inc. has been providing
Rental Bleachers
since 2009…
RBI rents temporary aluminum bleachers and grandstands across North and South Carolina.  Our rental options include mobile towable bleachers, VIP hospitality suites and our newest Elevated Event Decks.
We provide bleacher rental seating at a competitive costs to all locations across the Carolinas. Our more popular Carolina events include football games, musical festivals, graduations, beach tournaments, and so much more.
Our Customers Say It Best
Great customer service and delivery as promised. I rent bleachers every year for an outdoor expo and switched last year to Rental Bleachers, Inc. They have fair pricing, and good, safe equipment. I would recommend them!
Temporary Seating and Bleacher Options in the Carolinas
+ Make someone feel special!  Add a VIP Hospitality Suite for fans and/or staff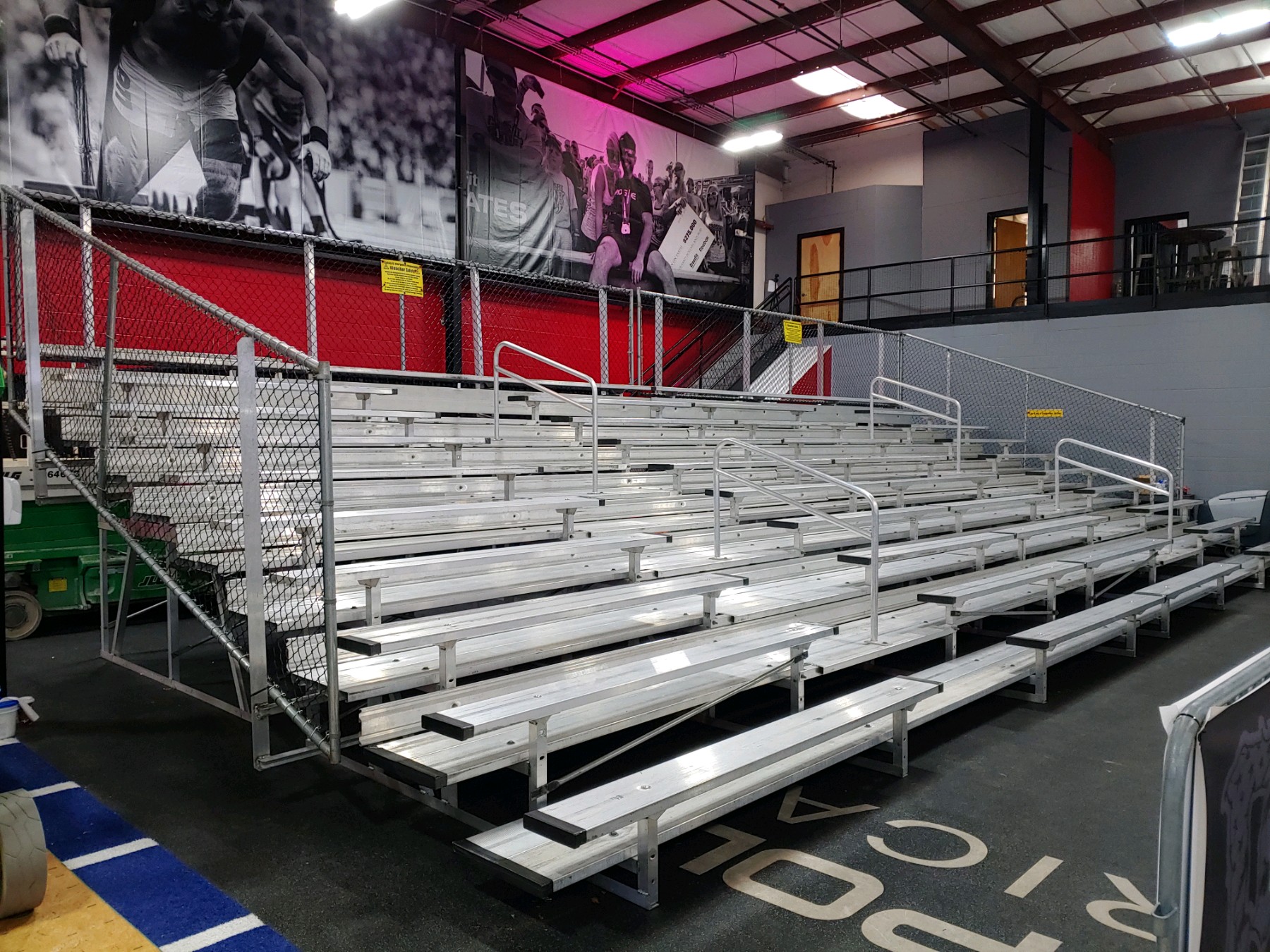 Traditional Bleachers
These standard bleachers can be installed in 5, 10, or 15 rows high (call for details).  These products are assembled on site.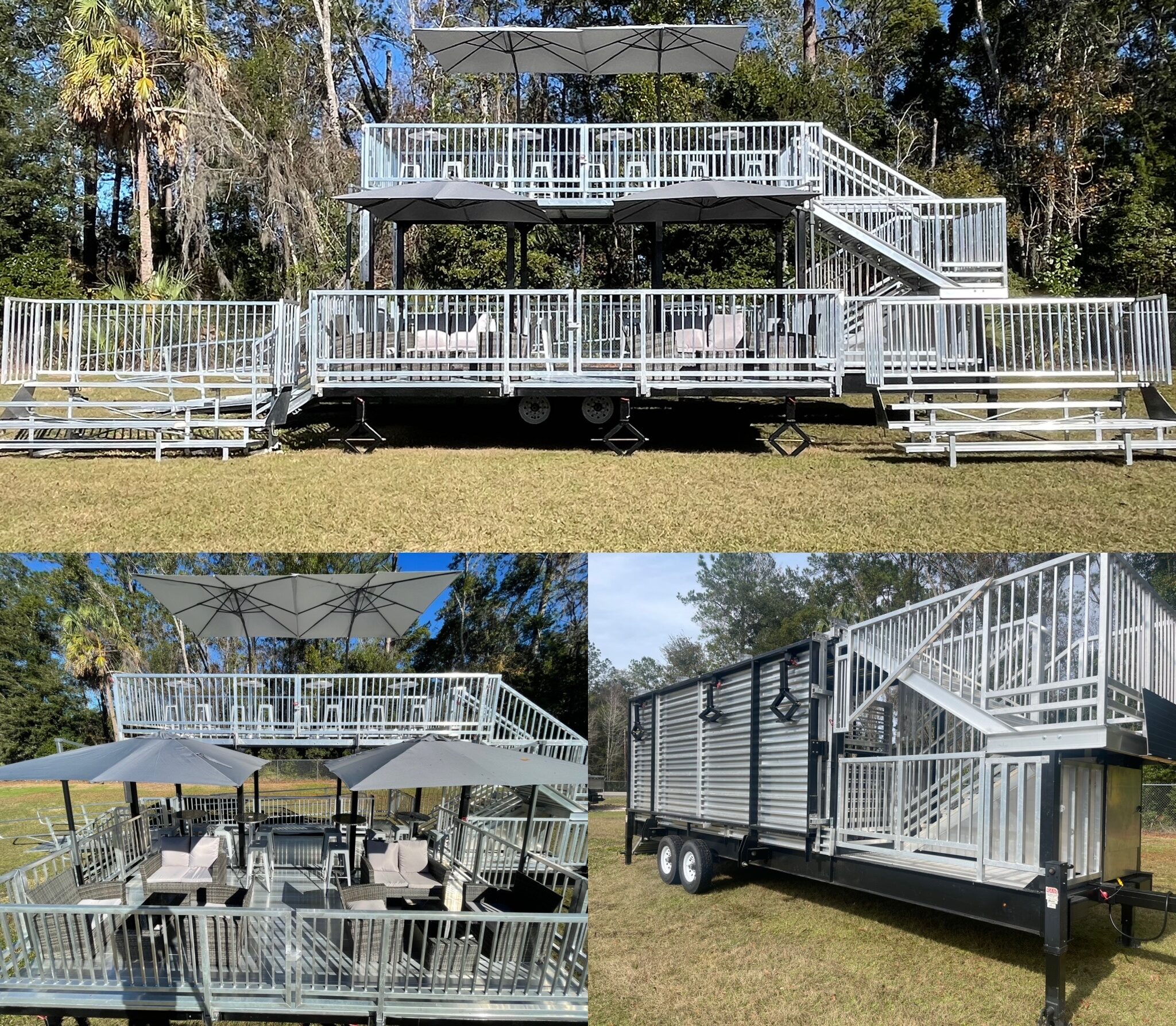 Elevated Event Deck
Mobile VIP event deck with ADA compliant wheelchair ramp, multiple seating locations and removable umbrellas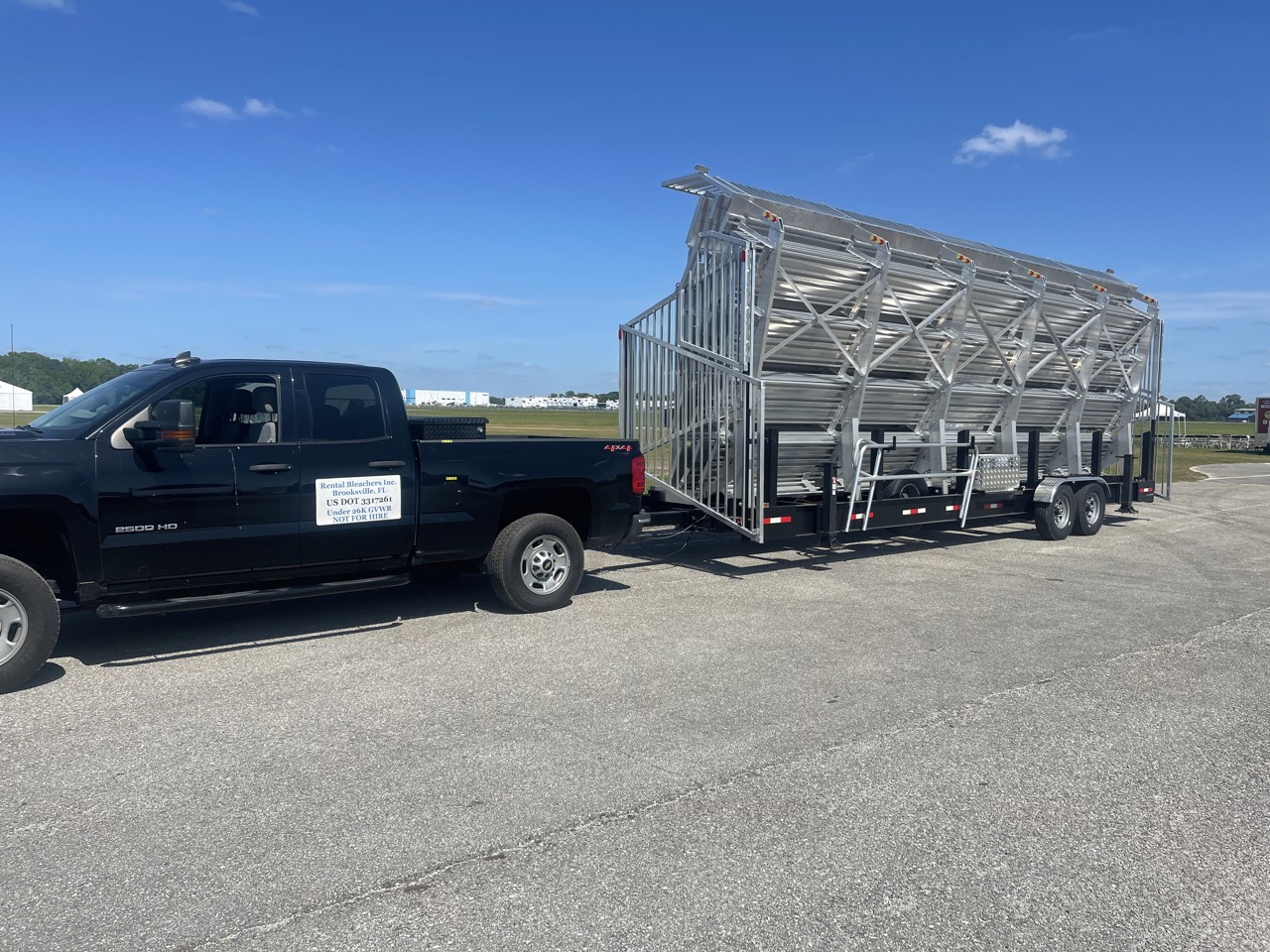 Mobile Bleachers
Mobile or Towable bleachers are an excellent choice for events with a tight delivery or removal time frame.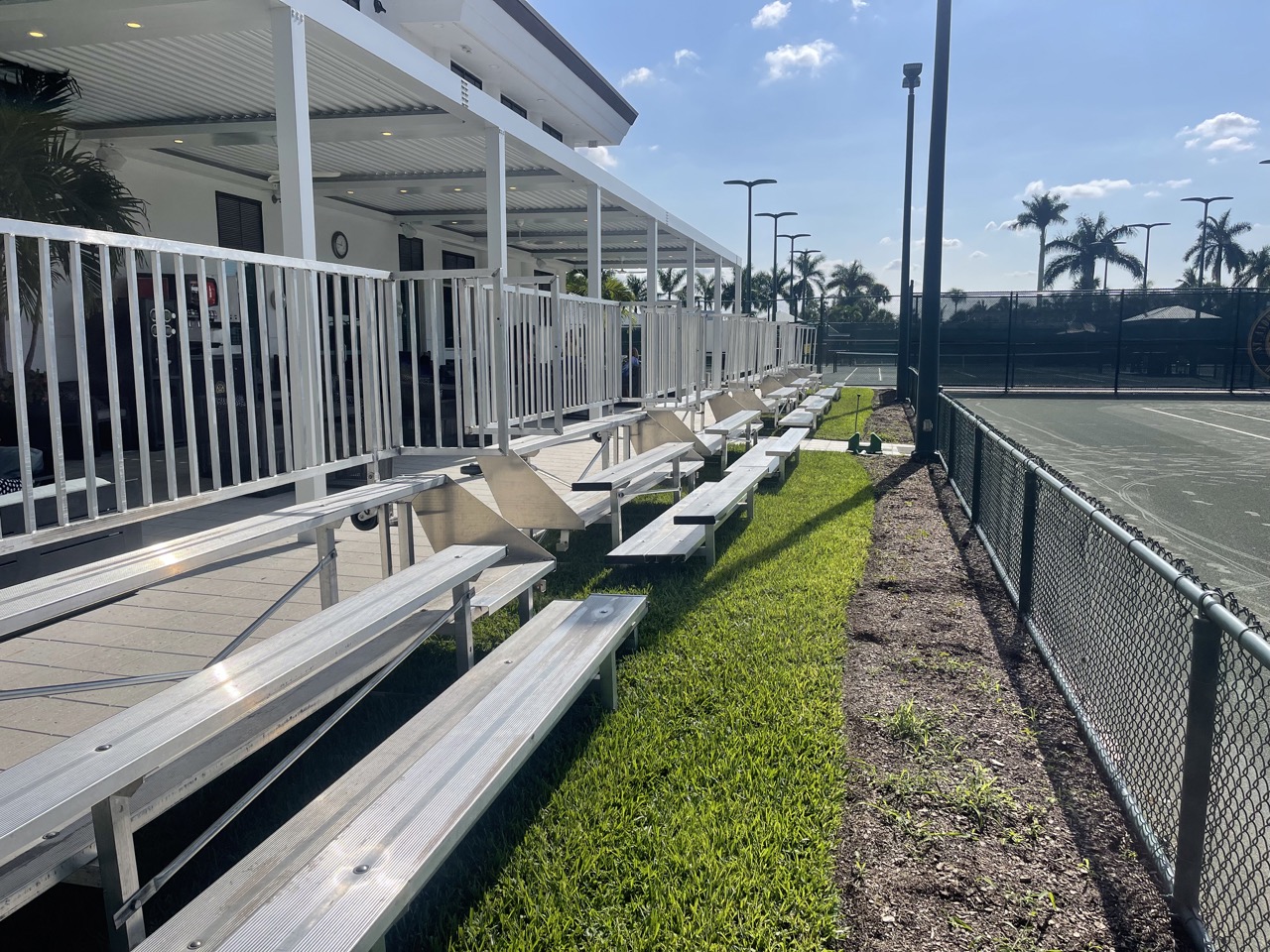 3 Row Bleachers
An intimate layout that is perfect for seating  small crowds in tight spaces. Easily moved around as needed.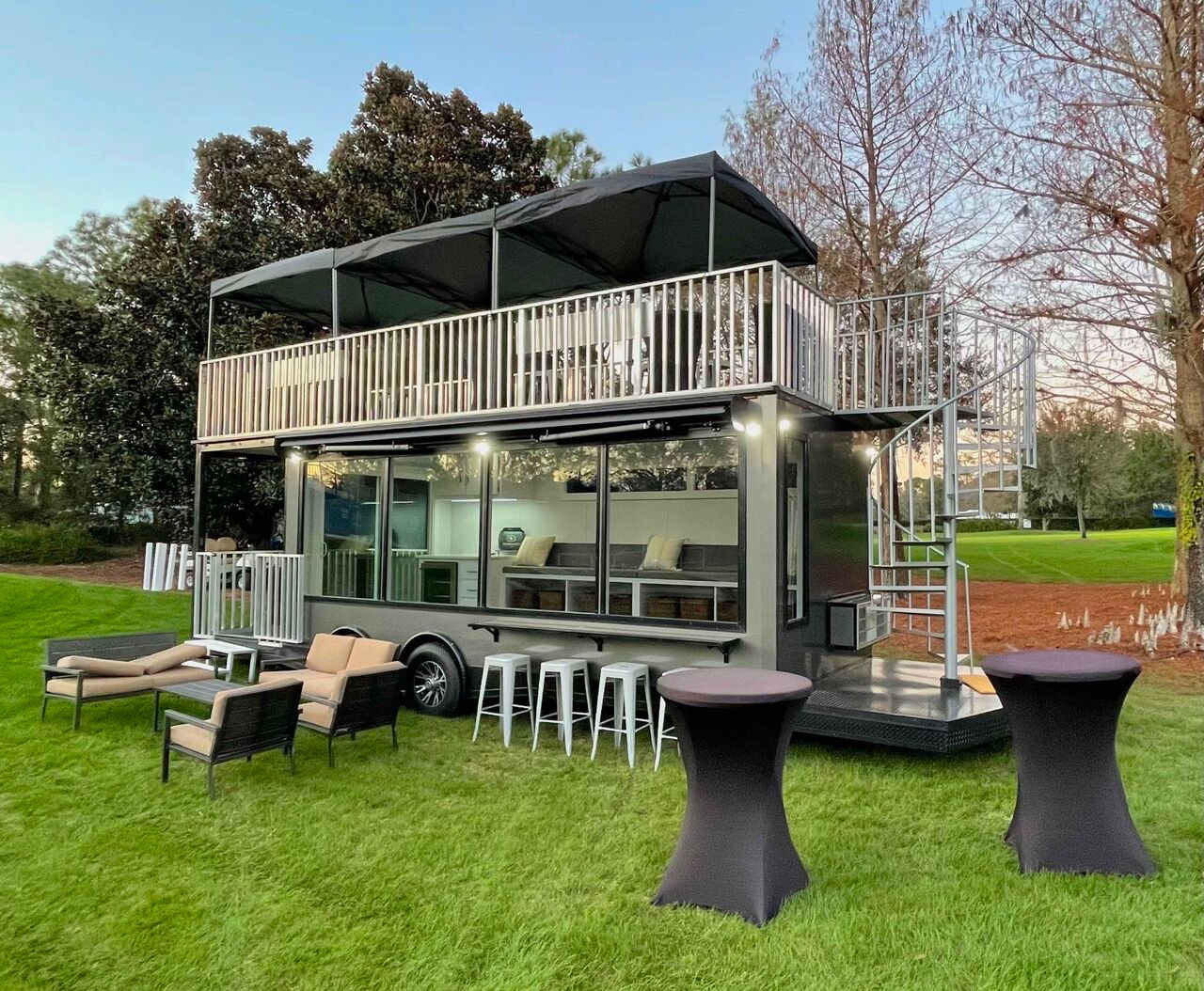 Hospitality Suites
Air conditioned event suites for VIP areas and Corporate Hospitality suites.  Optional tented or covered roof deck.  
What is The Process Like?
It's easy to rent bleachers in North Carolina or South Carolina with Rental Bleachers, Inc.  You give us the details for your event, and we take care of the rest. We make sure the bleachers are up to standards per state and local county and city codes and ordinances.
Our top priority is to ensure our rental bleachers are set-up and looking great before the event, and to quickly remove all our equipment as soon as the event is over. 
Give us a call or send us an email with your event details, and we'll help you knock seating options off your checklist for your event so you can focus on giving your guest the best experience.
1. Contact RBI with Event Details
In order to provide accurate costs and options for your event, you will need to know the following information:
City and State of event
Event Dates or length of rental period (i.e 1 day, 1 week, 1 month)
Number of people you want to seat in the bleachers
Indoor our outdoor event
Any special or unique details of your event or location
2. Agree on Contract and Terms
RBI will put together a formal contract with all of your unique event information and once agreed upon by both parties and executed, we enter into the planning stage of the project.
3. Planning for Bleacher Rental
During this phase of the contract, RBI issues appropriate insurance certificates and sealed drawings (if required). If any changes are needed on the clients end regarding schedule or layout, this is the time to make required modifications. 
4. Delivery and Assembly of the Bleachers.
Delivery of the materials requires access to the area for the trucks and trailers (Unless pre-discussed with other terms)
The assembly time can range from a few hours to a few days depending on the size and scope of the project.
Our crews are safety first and wear all appropriate safety gear during this phase. 
5. Awesome Event with Lots of Seating
Do your thing, our bleachers sit tight, even if your attendees don't!
6. Bleacher Removal
After the event, RBI will arrive at the agreed upon time and start the removal process. The removal process is usually a little faster than the assembly.  After the removal the site is left just as it was prior to assembly with the exception of any trash accumulated by the event which is the clients responsibility 
Some of our Recent Carolina Bleacher Rentals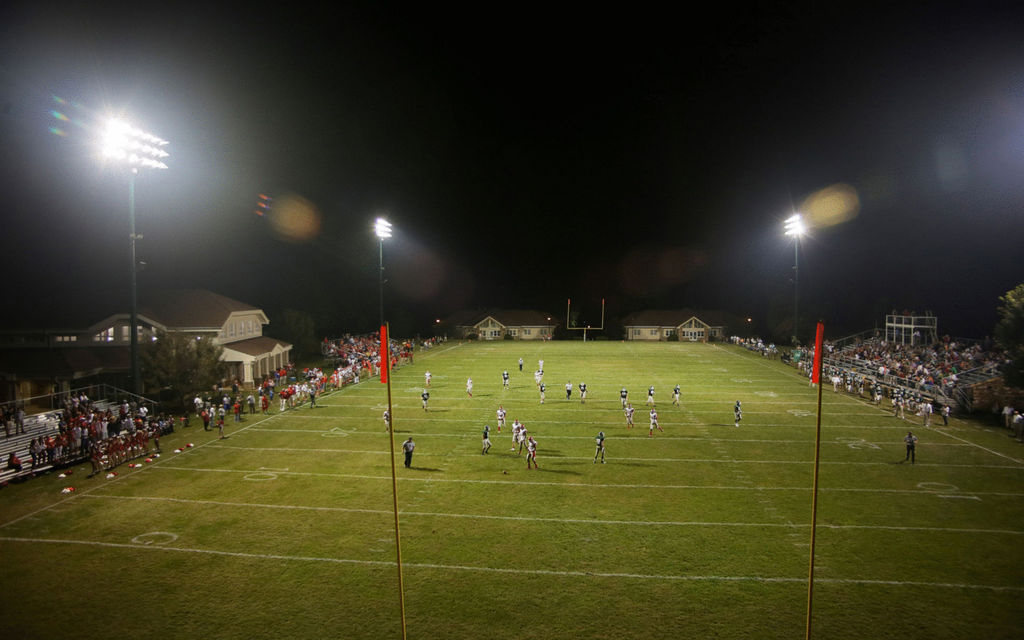 Arden, North Carolina
"Big Game" rivalry sell out calls for extra seating at a high school football game.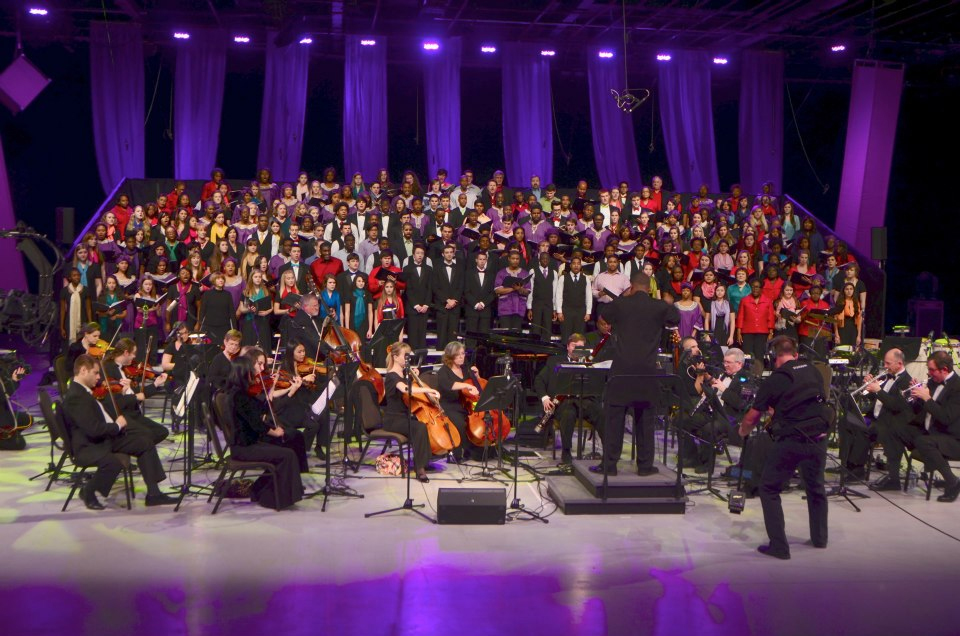 Fort Mill, South Carolina
Indoor bleacher rental for a televised christmas musical.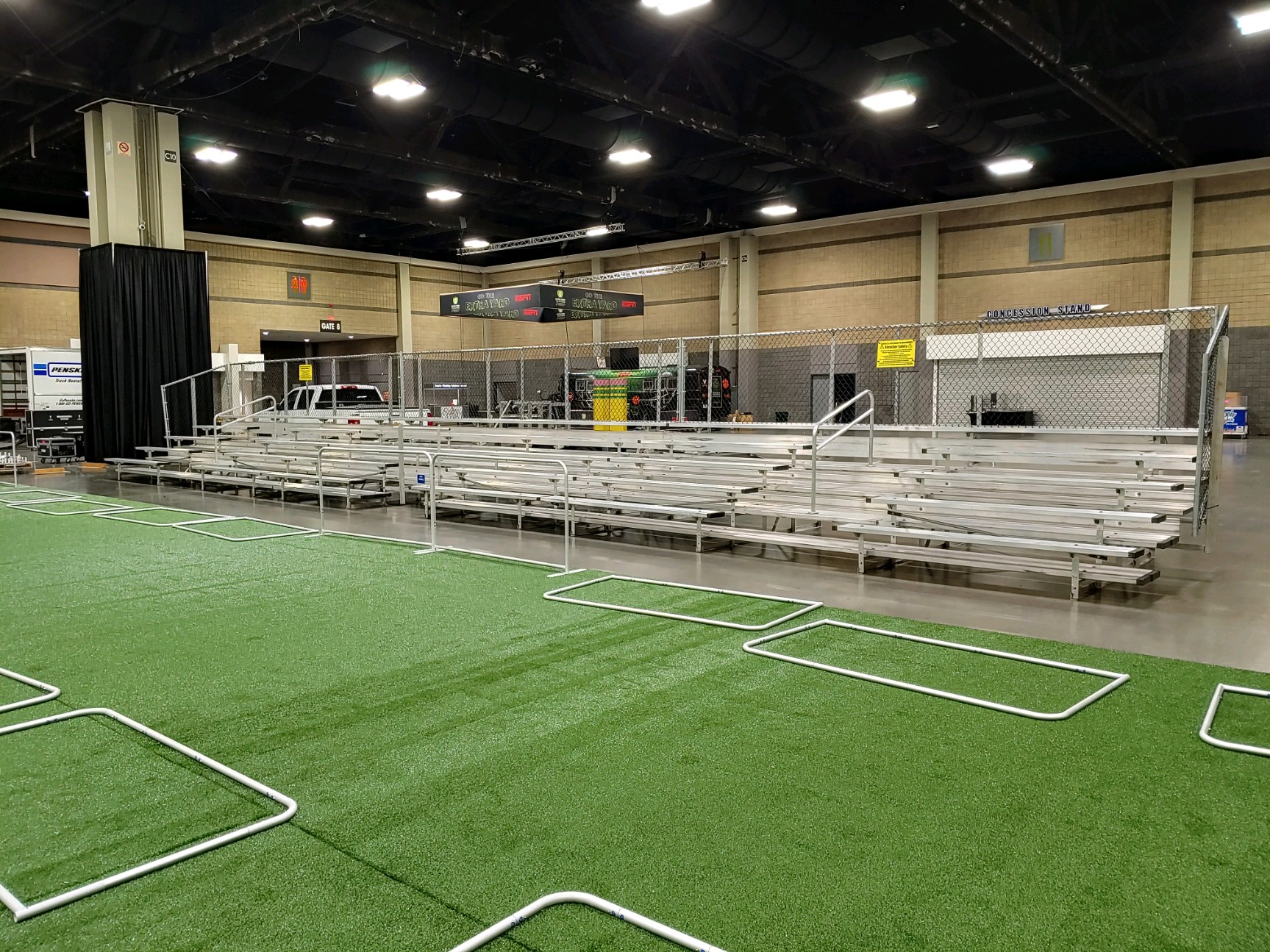 Greenville, South Carolina
5row bleachers used to create and indoor sporting event field for a corporate client. 
Arden, North Carolina
Big Rivalry Needs Extra Seats!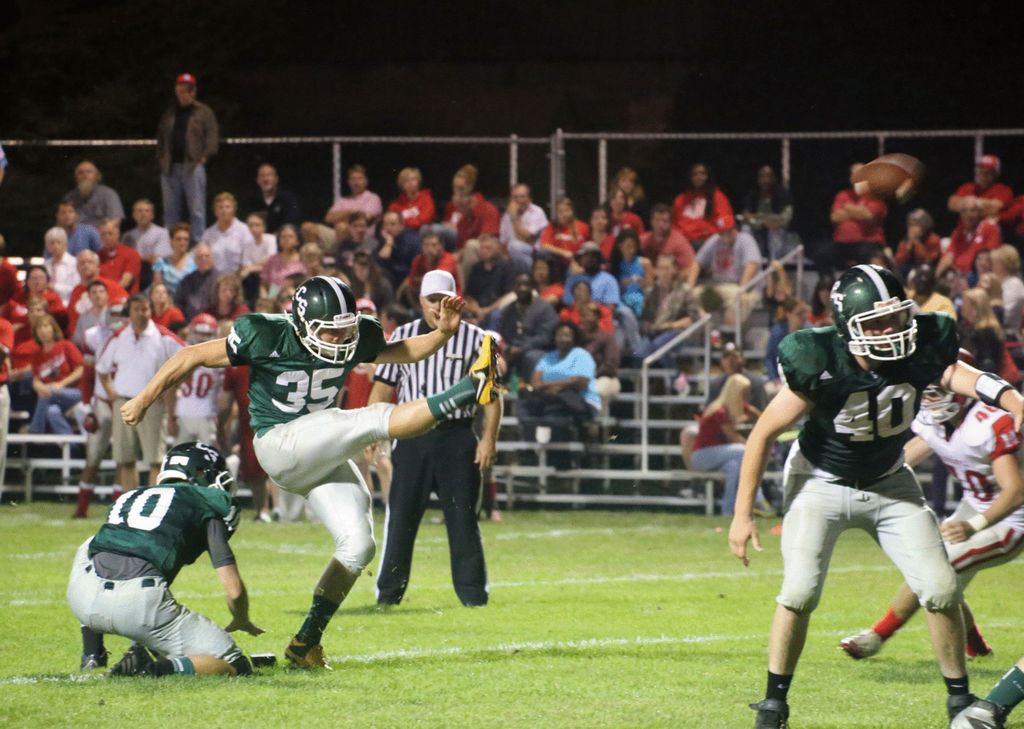 The bleachers used for this event were two sections of 63' long 10 row aluminum bleacher units with 2 mid-aisles for access to the seating.
This client was a high school in Arden, North Carolina. With a popular football season and a big rivalry home game, they needed some extra seating for all the fans!  They requested 750 additional seats for the game, and we agreed the best approach was using RBI's aluminum 10 row rental bleachers.   
These bleachers we great for the fans, who could easily watch the game. RBI installed safety fencing and aisles with handrails to ensure all safety codes were met and the rowdy crowds stayed safe.
The installation of the project went off without a hitch and the game was a huge success.  The distance from our location in Zephyrhills Florida and the project in North Carolina is around 600 miles each way yet RBI was still able to provide a price competitive enough for the client to choose us for the event.  Our bleachers never disappoint and when we put on an event our product always look top notch!
Fort Mill, South Carolina
Televised Christmas Musical
The indoor rental bleachers installed was a 42' long 10 row aluminum bleacher that allowed for seating up to 240 people with 2 aisles.
Bleachers can be used for all types of events, not just sports and competitions. This event was for a choir to perform and it had to look classy to complement the amazing talent that would be performed on it. 
The installation required the bleachers to be carried inside a facility and incorporated into the staging area.  For this client, we used a 42' long  10-row bleacher to make the choir area for the the televised christmas musical. The client then "dressed" the bleachers with black cloth to make it more appealing for the camera.
The bleachers really did look great as you can see from the photos.   The event was a weeklong project over 500 miles away and we were still able to provide the best price to the client for the project.
Get a Quote for Bleacher Rentals!
We would love to help you make the most of your event with RBI's bleacher rental service.   If you would like more information, a free quote, or  would like to share your RBI experience, please fill out the form below!
Resources for NC and SC Bleacher Rentals:
We provide full service for bleacher seating all across North and South Carolina, and have worked in major cities such as Columbia, Charleston, Greenville, Charlotte, Raleigh/Durham, Chapel Hill, and Greensboro, as well as smaller cities such as Hilton Head Island, Spartanburg, Fayetteville, Wilmington, Asheville, etc. Often times we even work with counties such as Lexington, Florence, Beaufort, Jasper, Georgetown, Cherokee, Union, Johnston, Wake, Richmond, Brunswick, etc. for county events.