Alabama Event SEating

Bleacher Rental Services in Alabama
Looking for Rental Bleachers in Alabama?
Short-Term Alabama Bleacher Rentals
If you need to rent bleachers for a weekend competition or a week long festival in Alabama, we've got you covered!
Long-Term Bleacher Rentals in Alabama
RBI offers long-term bleacher rentals, which is perfect for Alabama schools and local parks & rec looking to add some extra event seating.
Rental Bleachers, Inc. is your best provider for
Rental Bleachers in Alabama
RBI has installed temporary seating for numerous events across Alabama.   Our Alabama event seating is ideal for rodeos, playoff games, monster truck show, fairs and festivals and so much more.  Alabama is a great area to work, however pricing can vary on renting indoor and outdoor bleachers and grandstands depending on the location and length of the rental.
Here are a few of the amazing events where Rental Bleachers Inc. has provided our portable aluminum bleachers.
Our Customers Say It Best
I can not begin to express how pleased we are with the service, attention to detail and quality of the bleachers we received from Rental Bleachers Inc. Michael and his dependable crew were where they were supposed to be when they were supposed to be there. They kept us informed of their every move and even spent an extra morning coming back to triple check the installations.
This was one of the best moves and investments we have made in quite some time. Could not be more satisfied!
Temporary Seating and Bleacher Options in Alabama
+ Make someone feel special!  Add a VIP Hospitality Suite for fans and/or staff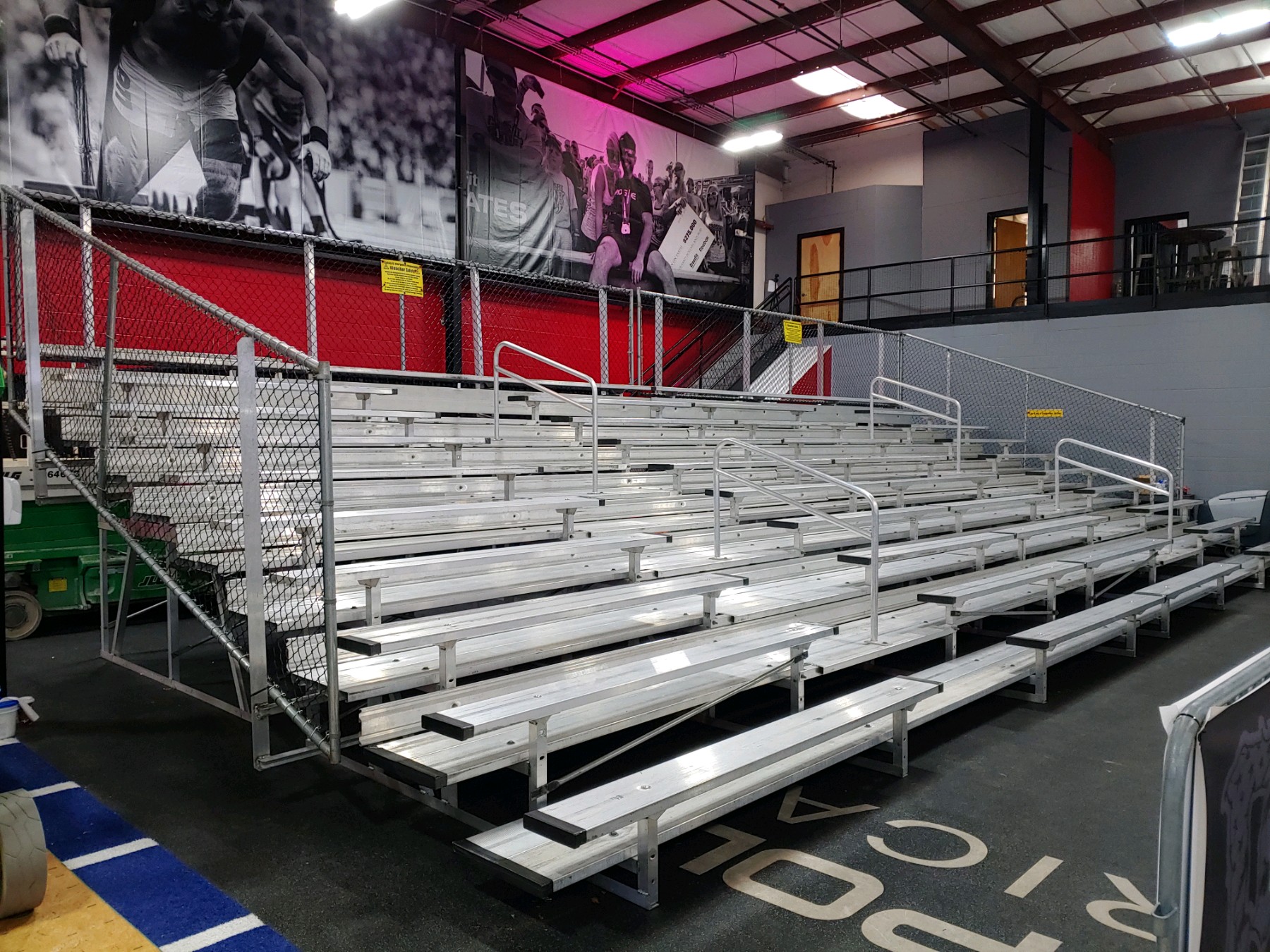 Traditional Bleachers
These standard bleachers can be installed in 5, 10, or 15 rows high (call for details).  These products are assembled on site.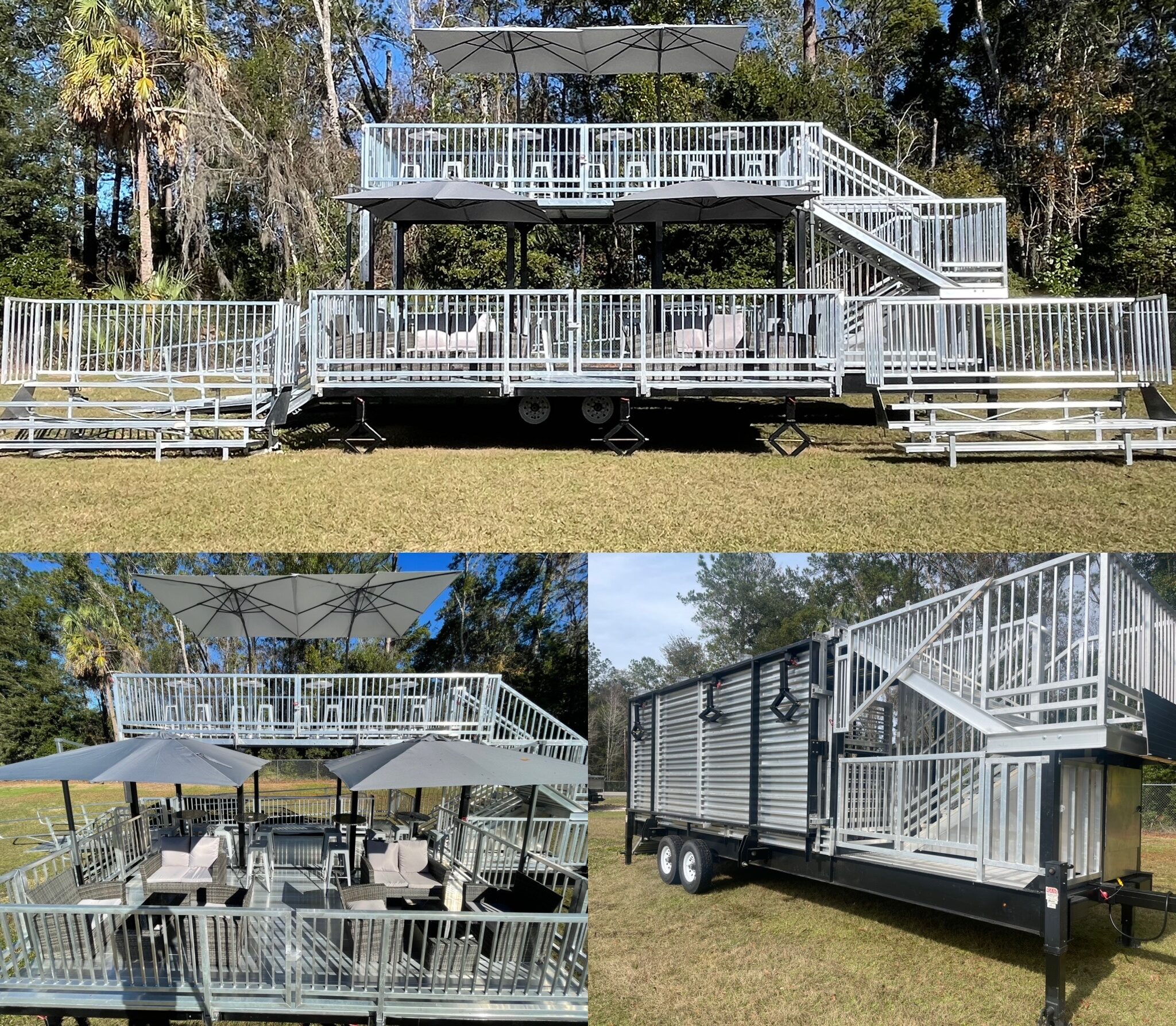 Elevated Event Deck
Mobile VIP event deck with ADA compliant wheelchair ramp, multiple seating locations and removable umbrellas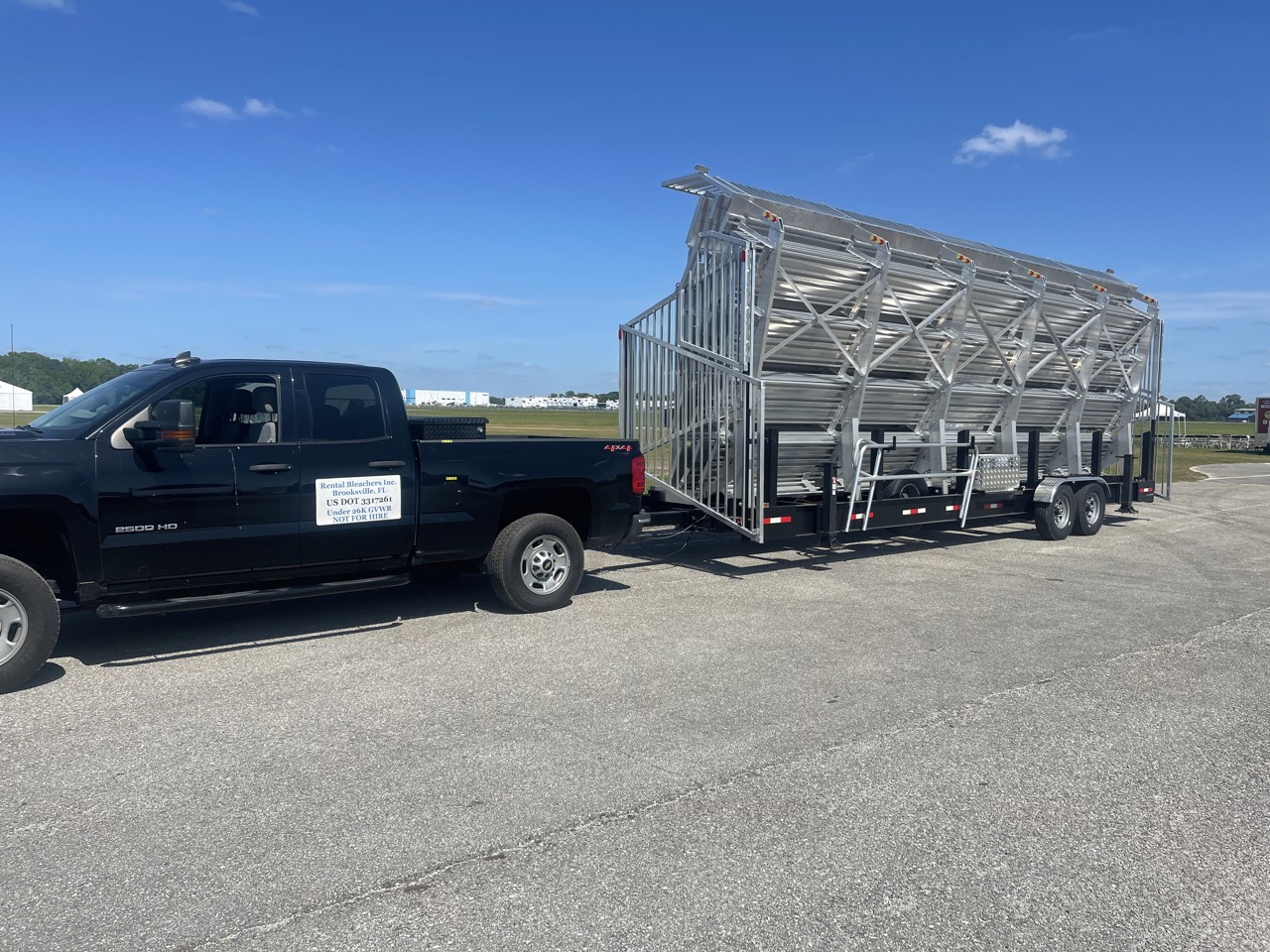 Mobile Bleachers
Mobile or Towable bleachers are an excellent choice for events with a tight delivery or removal time frame.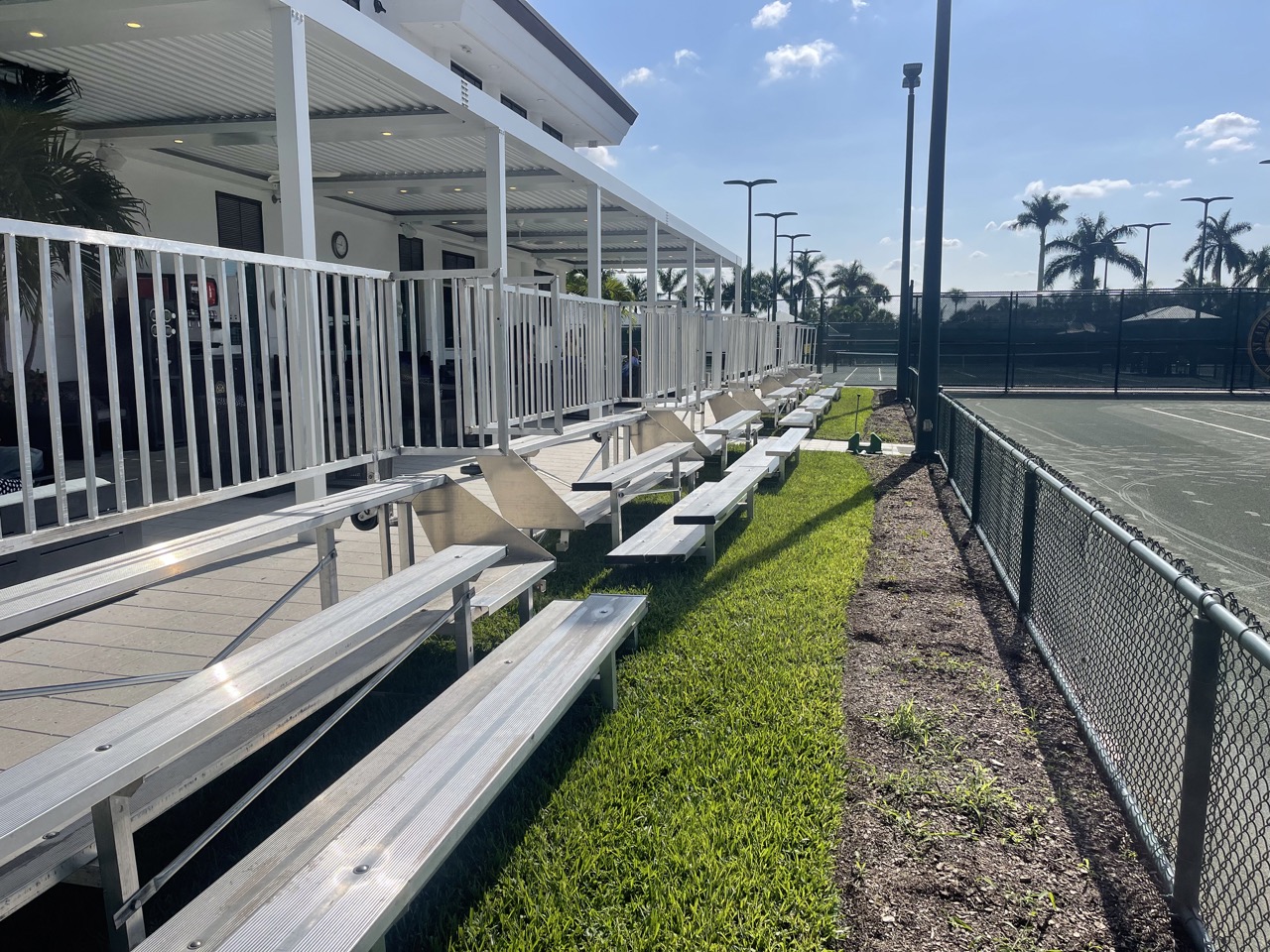 3 Row Bleachers
An intimate layout that is perfect for seating  small crowds in tight spaces. Easily moved around as needed.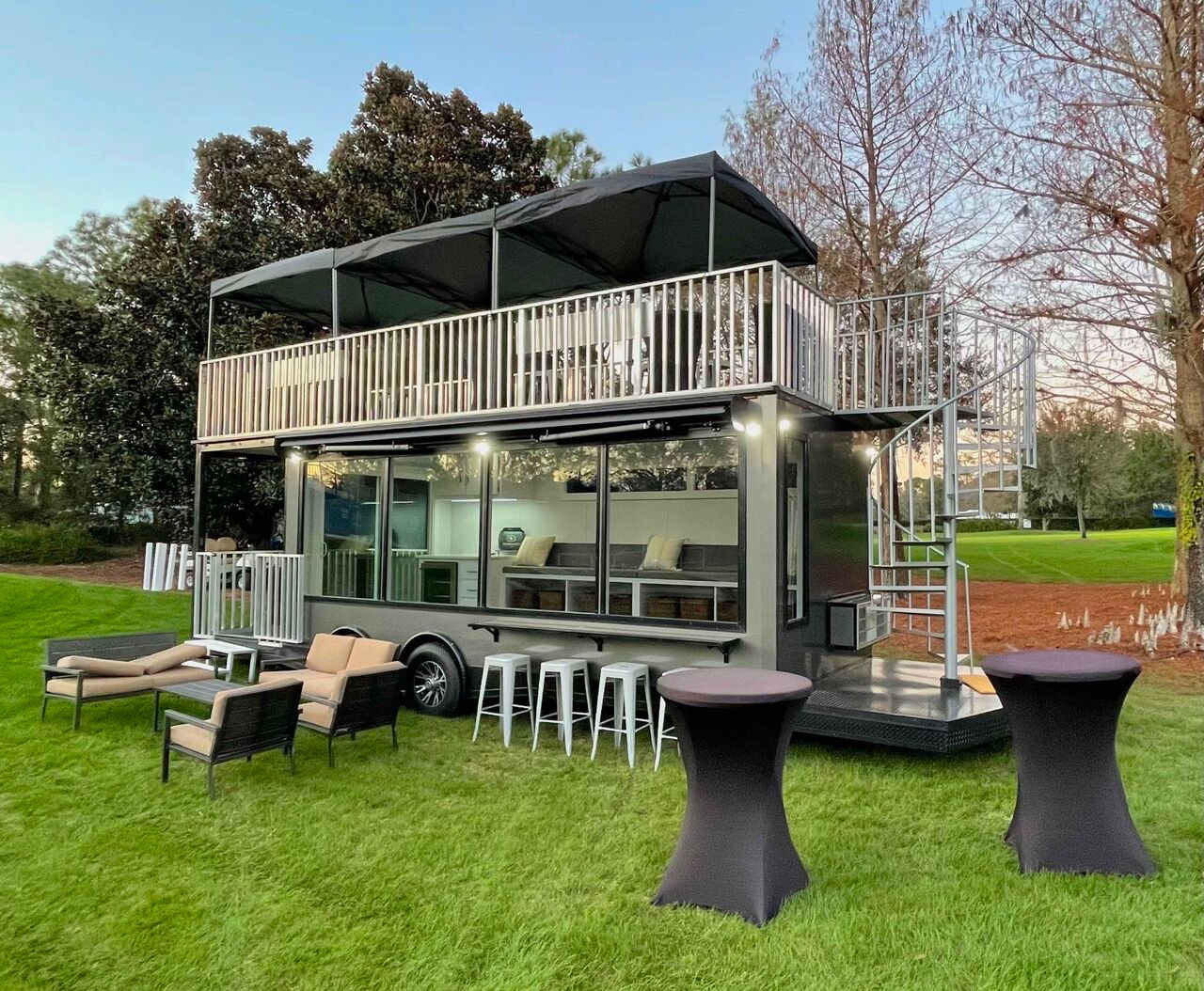 Hospitality Suites
Air conditioned event suites for VIP areas and Corporate Hospitality suites.  Optional tented or covered roof deck.  
What is The Process Like?
It's easy to rent bleachers in Alabama with Rental Bleachers, Inc.  You give us the details for your event, and we take care of the rest. We make sure the bleachers are up to standards for all Alabama state and local county and city codes and ordinances.
Our top priority is to ensure our rental bleachers are set-up and looking great before the event, and to quickly remove all our equipment as soon as the event is over. 
Give us a call or send us an email with your event details, and we'll help you knock seating options off your checklist for your event so you can focus on giving your guest the best experience.
1. Contact RBI with Event Details
In order to provide accurate costs and options for your event, you will need to know the following information:
City and State of event
Event Dates or length of rental period (i.e 1 day, 1 week, 1 month)
Number of people you want to seat in the bleachers
Indoor our outdoor event
Any special or unique details of your event or location
2. Agree on Contract and Terms
RBI will put together a formal contract with all of your unique event information and once agreed upon by both parties and executed, we enter into the planning stage of the project.
3. Planning for Bleacher Rental
During this phase of the contract, RBI issues appropriate insurance certificates and sealed drawings (if required). If any changes are needed on the clients end regarding schedule or layout, this is the time to make required modifications. 
4. Delivery and Assembly of the Bleachers.
Delivery of the materials requires access to the area for the trucks and trailers (Unless pre-discussed with other terms)
The assembly time can range from a few hours to a few days depending on the size and scope of the project.
Our crews are safety first and wear all appropriate safety gear during this phase. 
5. Awesome Event with Lots of Seating
Do your thing, our bleachers sit tight, even if your attendees don't!
6. Bleacher Removal
After the event, RBI will arrive at the agreed upon time and start the removal process. The removal process is usually a little faster than the assembly.  After the removal the site is left just as it was prior to assembly with the exception of any trash accumulated by the event which is the clients responsibility 
Some of our Recent Alabama Bleacher Rentals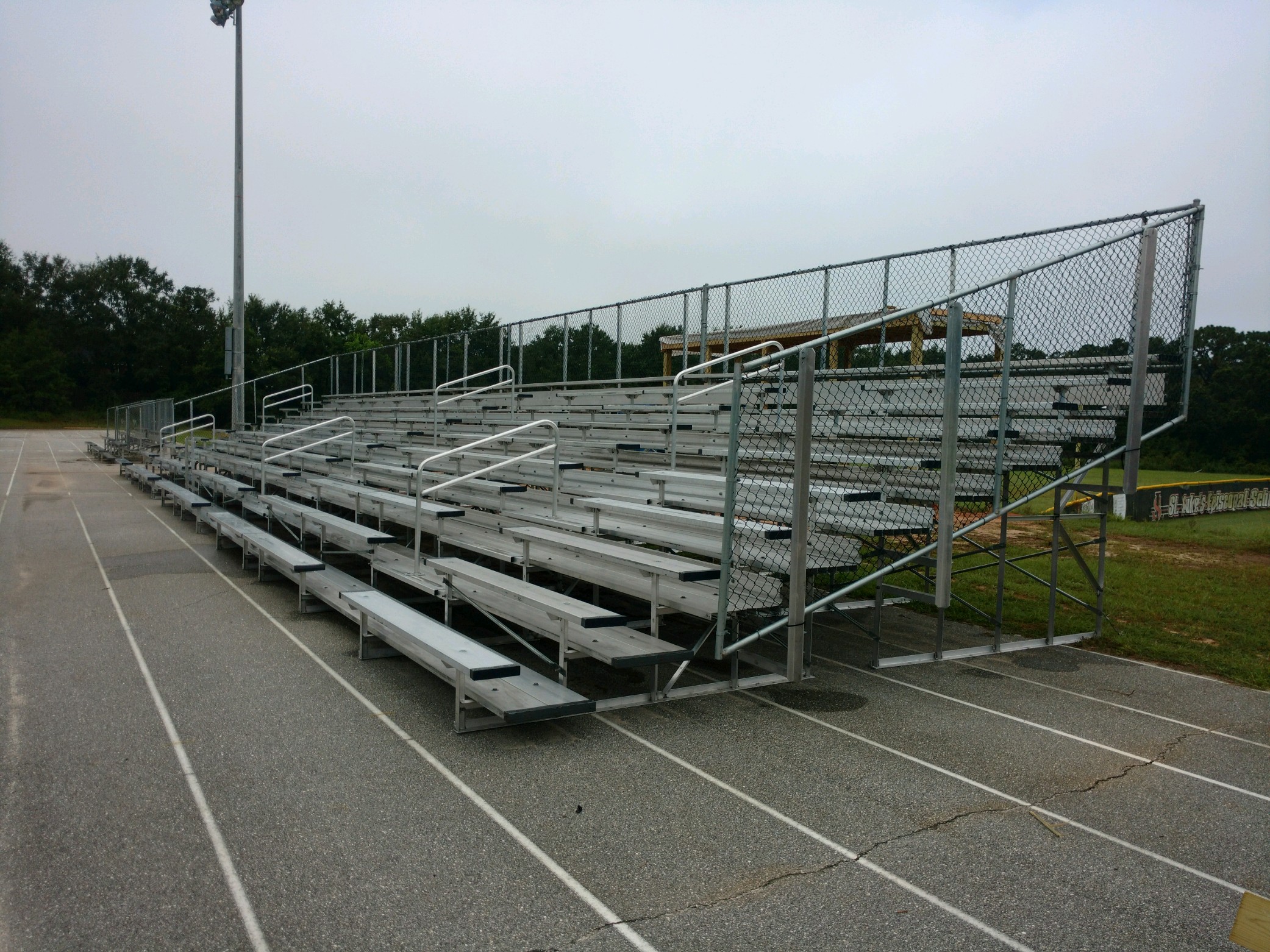 Mobile, Alabama
Long Term (football season) bleacher rental for school.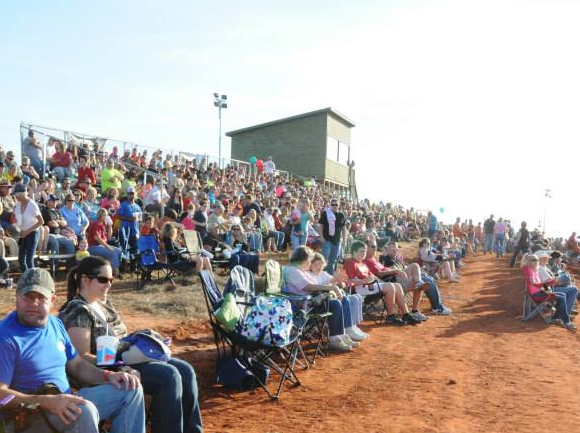 Enterprise, Alabama
Temporary aluminum bleachers for a Monster Truck Show.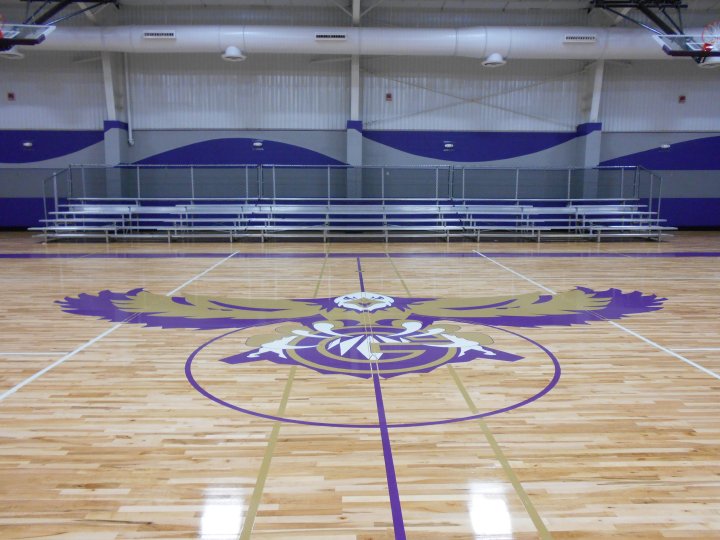 Goshen, Alabama
Indoor bleacher rental for a Basketball tournament.
Mobile, Alabama
Long-Term Bleacher Rental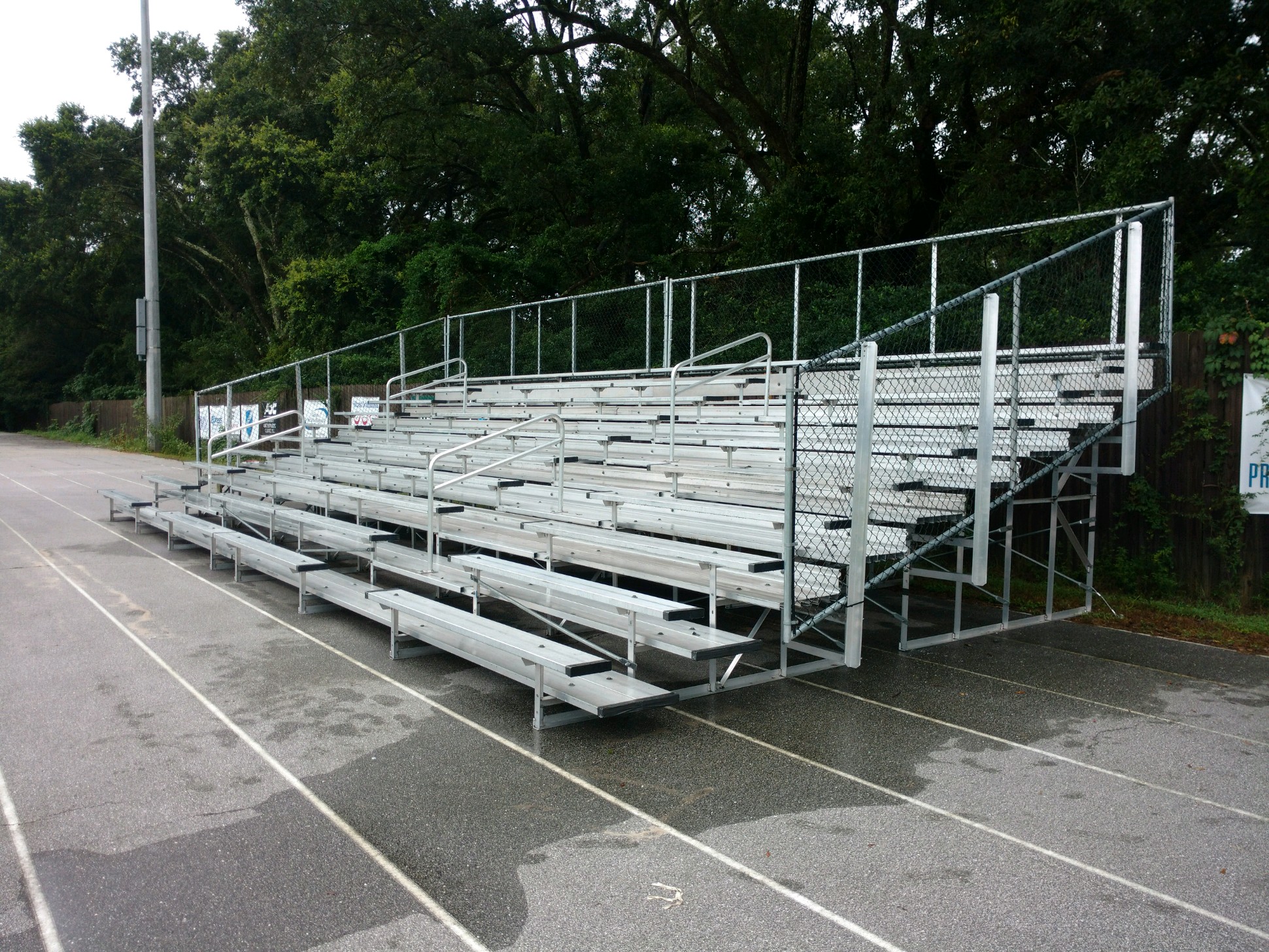 The bleachers rented for this event are 10 row angle frame aluminum bleachers.
This customer was looking for a low-cost alternative to purchasing bleachers in order to add some additional seating at their school. RBI agreed to provide around 700 total seating for the entire football season for this private school in Mobile, Alabama. 
The bleachers used are of 10 row design to perfectly accomodate the additional seating needs of the school.  Due to the length of the rental and weather conditions, the bleachers have been anchored to assist in wind lift during inclement weather.  This is always the best option for long term rentals where the ground/area is suitable for anchoring.  While anchors do not guarantee to prevent damage in a hurricane or extreme weather, they will provide an extra level of safety in those situations. For additional information on bleacher anchoring please contact us directly.
Enterprise, Alabama
Monster Truck Show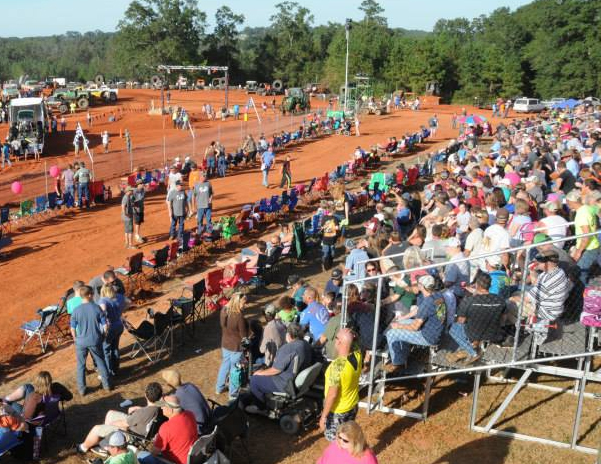 The rental bleachers installed were 84' long and 10 rows high to provide temporary seating for 515 people.
This client required temporary seats for a truck show that was extreme to say the least.  The bleachers were installed on a hilltop to make for a great view of the area as well as a pretty comfortable spot for the guests. 
Some locations such as this can get real muddy which can make getting trucks and trailers close enough for installation troublesome. This event thankfully did not rain so we had little trouble but in some cases additional manpower is required to get the seating to the area. 
If the ground is too soft the bleachers cannot be installed as they can settle and cause damage to the area.  This is very unusual and only happens on extreme cases during long term inclement weather in a lower lying area.  Most projects do not apply.  However the ground and area the bleachers are being placed upon is very important as bleachers require a flat hard surface for support.
Goshen, Alabama
Basketball Tournament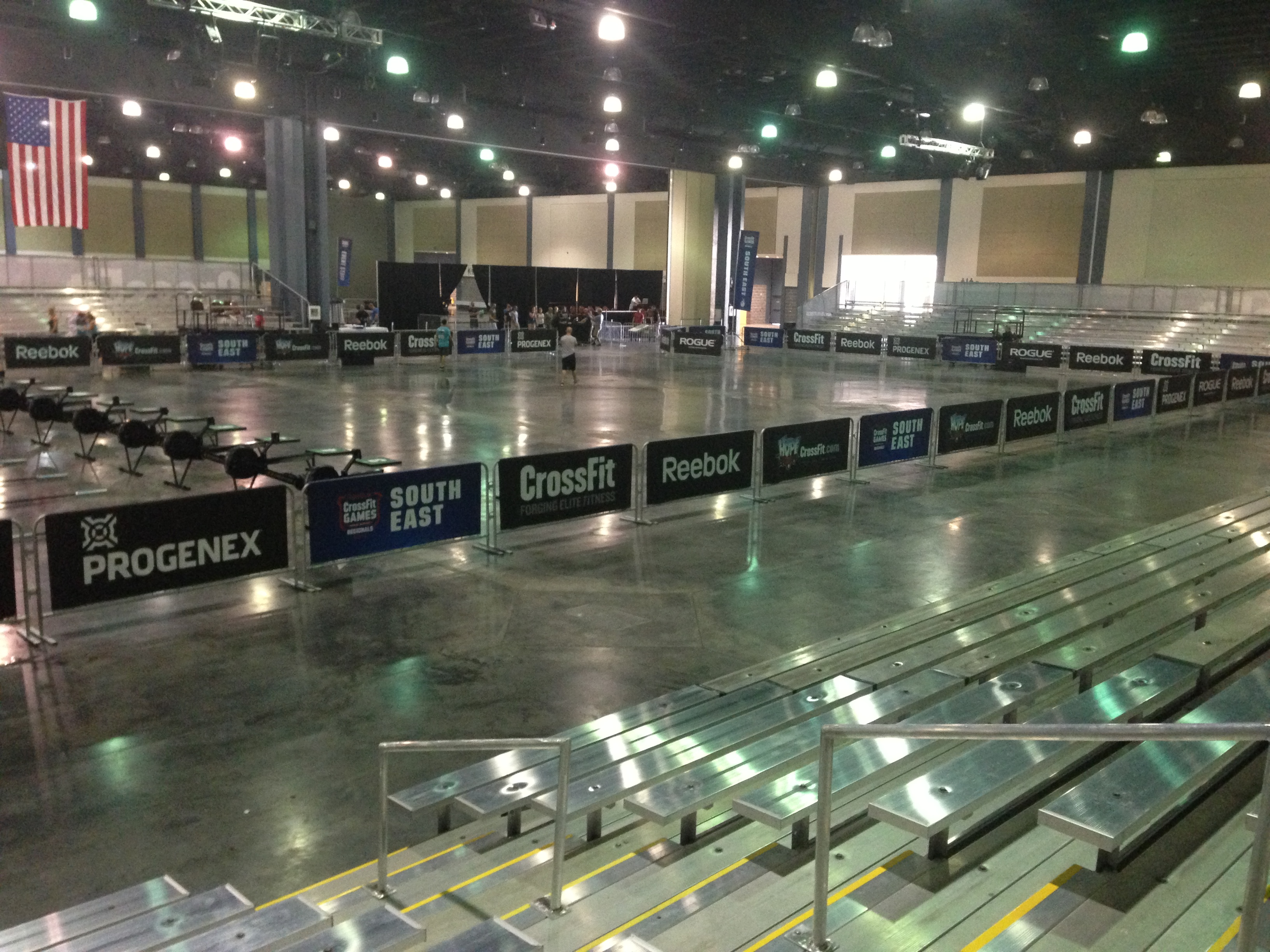 This event was a 4 day tourney that used a smaller section of bleachers that was long enough to have seating the entire length of the court. The project utilized a 84' long 5 row bleacher with chain link safety fence.
This customer was putting on a 4 day basketball tournament, and they needed additional seating to accommodate all of the additional guests traveling to watch the entire tourney.  Fortunately, RBI has plenty of experience with indoor bleacher rentals, as this event required the bleachers to be installed inside a gymnasium with brand new hardwood flooring.
When installing bleachers on a surface that can be damaged by the metal framing it is critical to use some type of material such as carpet or tarps to protect the floor from scratching during the event. Also because you cannot get a vehicle inside this type of location you either need to carry all the materials or have a cart that is suited to the surface of the facility.
Overall, this was a great event and the customer was ecstatic at our level of care when installing the temporary bleachers in their gym.  We look forward to doing this event year after year.
Get a Quote for Bleacher Rentals!
We would love to help you make the most of your event with RBI's bleacher rental service.   If you would like more information, a free quote, or  would like to share your RBI experience, please fill out the form below!
Resources for Alabama Bleacher Rentals:
We provide full service for bleacher seating all across Alabama, and have worked in major cities such as Birmingham, Mobile, Montgomery, and Auburn, as well as smaller cities such as Huntsville, Tuscaloosa, Dothan, and Talladega. Often times we even work with counties such as Jefferson, Dallas, Baldwin, Dale, Geneva etc. for county events.