This project was a long term bleacher rental for Venice High School in Sarasota County Florida.  The school needed additional seating for the end-zone to accommodate playoff requirements and host games beyond the regular season.  This bleacher rental project consisted of an 84' long 10 row aluminum bleacher with 3 ailes and seating for 485 people.  The bleacher installation took around 6 hours from start to finish.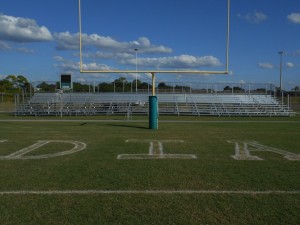 This is a pretty standard size bleacher used for additional seating during playoff games in High School football season.  Most school stadiums have enough seating for the regular season but playoff regulations require a specific number of seats in order for a school to host a playoff game.
This is where Rental Bleachers Inc comes in.  We offer many different bleacher seating layouts and choices to meet the many different requirements and because of the size of our bleacher inventory we can provide long term bleacher rentals that many other companies can not offer.