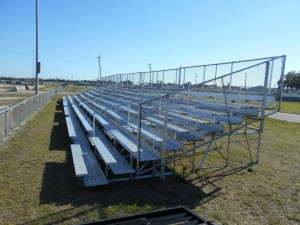 RBI recently provided bleacher rentals for an annual race in Florida that is among the oldest and most prestigious racing events in the country.  This year RBI was fortunate enough to get the contract to provide additional bleacher seating for two locations around the track for the events.
One of the bleachers used was a 105' long 10 row aluminum angle frame event bleacher with seating for 630 spectators.  This units was installed in an awesome location and the client had some unique requests for the bleacher installation.  One of the requests was that the bleachers be anchored to meet wind loads which is a common thing for permanent bleachers seating but not so much for temporary bleachers.  RBI accommodated this using specialized hurricane anchors and straps that were installed in accordance with the design provided by our engineer for the project.  This is another service that some temporary bleacher companies do not provide.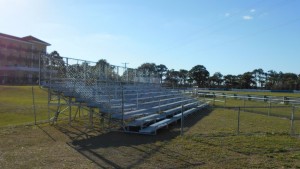 The second section of bleachers used at the track was a 63' long 10 row seating 375 people.  The original contract called for 2 84' long sections however was RBI arrived for the installation the client asked to modify the layout which was easily accommodated due to our design of 21' long sections which can be connected to make longer units in any increment.